It's amazing to think that the loosely defined umbrella "alternative rock" now stretches past the quarter century mark. In celebration of its endurance, this week Austin City Limits presents a veteran of the style and a fast-rising newcomer. Bob Mould pioneered the loud/fast guitar pop style with both his 80s punk band Hüsker Dü and his 90s power pop trio Sugar, while Delta Spirit carves its own path by blending Americana and indie rock. This episode will get your heart pumping and your air guitar flailing.
Joined by longtime bass foil Jason Narducy and Superchunk/Mountain Goats drummer Jon Wurster, Bob Mould wastes no time getting to the point, opening with the bludgeoning power chords of Sugar's "The Act We Act." It's the start of a blazing career retrospective that ranges from the romping Sugary power pop of "Changes" and "If I Can't Change Your Mind" to the raging power rock of "Star Machine," the lead-off track from Mould's highly acclaimed LP Silver Age. Hüsker Dü classics bring down the house, including the nuclear powered folk rock of "Celebrated Summer" and the irresistible hooks of "Makes No Sense at All." While it's hard to pick a highlight in a show packed with so many goodies, the epic, elegiac version of the rarely-performed Hüsker gem "Hardly Getting Over It" elevates the episode from simply excellent to truly magnificent.
From the intensity of the veteran we go to the enthusiasm of the newcomers, as Delta Spirit takes the stage. The Brooklyn-based quintet revs the energy up immediately with the rumbling "White Table," before irrepressible singer Matt Vasquez sparks the crowd into overdrive with the anthemic "Money Saves." The band brings things back down with "Vivian," a lovely song about former Austinite Vasquez's grandmother, performed with his own mama in the audience for a touching moment. Then it's more palate-cleansing with the lilting, melodic "California," before bringing the house down with the band's explosive standard "Trashcan," probably the only song in the ACL catalog that features a metal trashcan lid as a main instrument.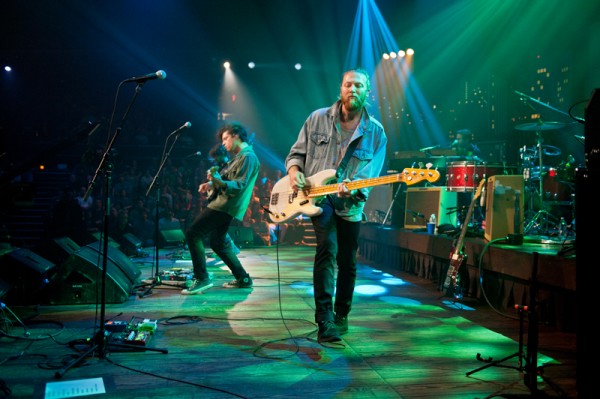 More details can be had on the episode page here. Don't forget to check in with our Facebook and Twitter pages or sign up for our newsletter for more ACL news. Next week: Widespread Panic.