Austin City Limits explores new sonic directions in a double bill with Jim James and Austin's own Black Angels.  My Morning Jacket leader Jim James plays songs from his acclaimed debut solo album Regions of Light and Sound of God while Texas psych-rockers The Black Angels highlight songs from their latest release Indigo Meadow.
The versatile Jim James commands a spellbinding set in his first-ever solo outing on ACL, marking his sixth appearance on the program—having performed twice with his main outfit My Morning Jacket, in addition to appearances with the Preservation Hall Jazz Band, Bright Eyes and Monsters of Folk.  Declaring his solo project a "new adventure", James invites the Austin audience to come on the journey with him, and they are more than happy to oblige.  He reaches into new territory in an intimate and hypnotic performance that combines hints of old school R&B, flickers of hip hop, operatic pop and delicate instrumentation.  James and his four-piece band open with the 70s soul of "State of the Art" and "Know Til Now" and segue into the spiritual love song "A New Life" and the atmospheric "Actress".  It's a captivating and completely danceable set, with James himself getting in the groove while holding a bronze panda up and adding his own sliding dance steps.
"Jim James has found many ways to pursue his musical muse, and it's amazing that this is his very first solo album," notes ACL executive producer Terry Lickona. "What better way to bring it to his legions of fans than ACL?"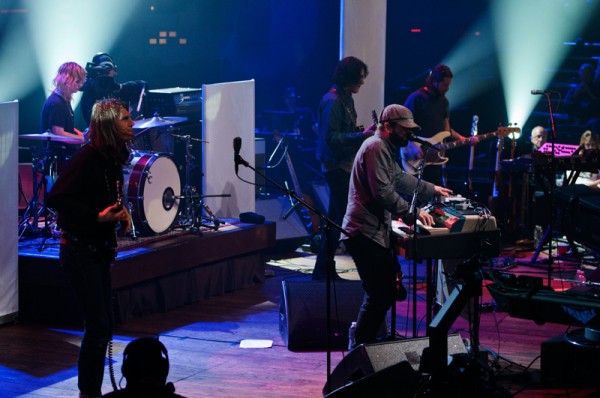 Carrying on the long Texas tradition of psychedelia, Austin's Black Angels round out the episode, making their long-awaited ACL debut with their unique brand of psychedelic music for the 21st century.  It's a fitting showcase for ACL, as the psych rock movement has its roots in the Lone Star State thanks to 60s acid-rock heroes the 13th Floor Elevators, who were the first band to apply the term psychedelic to rock & roll.  Named in tribute to the Velvet Underground number "The Black Angel's Death Song," The Black Angels found themselves the spearhead of a new psychedelic revival soon after their formation in 2004.  The band's carefully crafted blend of melody and noise won over fans of both modern indie rock and old school acid rock, and established it as a major force in underground rock & roll, even starting its own festival in 2008, the still-running Austin Psych Fest.  Opening with the heavy duty headbanger "Evil Things", the Angels create a dark, brooding mood with their trademark vocal reverb and fuzzy, distorted guitars on a stage complete with fun-house optic, psychedelic images swirling on projection screens.  The Black Angels take the Austin crowd into the psychedelic heart of darkness and back out into the light, proving why they have become one of the foremost acts in the psych and garage rock revival.
"Whether you remember 60's acid-rock first-hand or this is your first 'psych' experience, The Black Angels have taken a classic rock form and turned it into their own," Lickona says. "It's got an other-worldly vibe but at the same time it's totally accessible."
Check out the episode page here and tune in this Saturday to see the show for yourself. Click over to our Facebook and Twitter pages or our newsletter for the latest ACL skinny. Next week: Americana Music Festival 2013.