Austin City Limits celebrates the best in Americana music today, with The Lumineers and Shovels & Rope making their ACL debuts. Denver's Lumineers perform their breakthrough hits including "Ho Hey" and "Stubborn Love," while Charleston, South Carolina's Shovels & Rope perform songs from their acclaimed debut O' Be Joyful. The new episode, part of ACL's just-launched Season 39, premieres October 19th.
The broadcast offers a deeper look at two acts that have been receiving well-deserved attention for their recent releases. Leading off the hour is The Lumineers, a folk-rock trio that play traditional but original heart-on-the-sleeve music. Of the band The Austin Chronicle writes, "There's nothing precious or affected here, just three dedicated artists opening their hearts." The group's breakthrough hit "Ho Hey" was one of the most-played songs of 2012, earning them a performing slot on 2013's Grammy Awards telecast, in addition to two Grammy nominations for Best New Artist and Best Americana Album. The Lumineers' uplifting ACL debut is filled with heart-swelling stomp-and-clap acoustic rock, classic pop and front-porch folk. Their set includes an inspired take on a Dylan classic, while the tambourine driven beat of "Ho Hey" brings the crowd to its feet and the performance closes with a crowd sing-along on "Stubborn Love."
"There's more to The Lumineers than just the song that seemed to have the whole world singing along to this year," notes executive producer Terry Lickona. "There aren't many bands that can engage an audience the way they do, and watching their ACL performance is the next best thing to being there."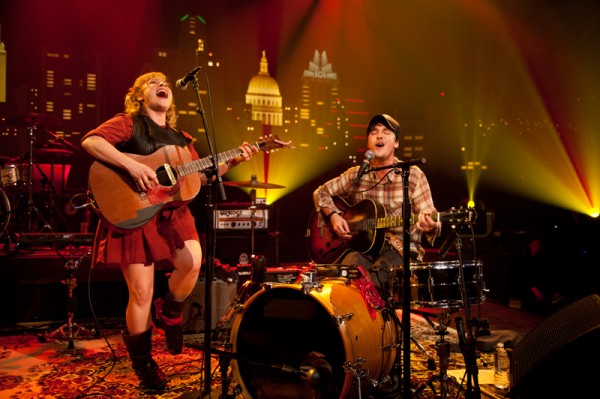 The second half of the episode introduces Shovels & Rope, the husband and wife roots duo of Michael Trent and Cary Ann Hearst. The dynamic pair channel country, bluegrass and blues to create folk music with raw energy. The NY Times raves, "While they are country, there is an edgy, punk, raucous side to go with their beautiful harmonies." NPR agrees, "Seeing Hearst and Trent perform live together—as they conjure images of country-singing couples like Johnny Cash and June Carter Cash—renders them almost impossible to resist." The first-time nominees were big winners at this year's recent Americana Music Awards, taking home top honors for Emerging Artist of the Year and Song of the Year. The couple's creative chemistry is on display in their ACL debut, an irresistible performance that's a potent mix of Southern gothic and country rock and deftly showcases their soulful harmonies.
"It doesn't get more basic than Shovels & Rope," says Lickona, "but they rock out more than a stage full of musicians, and there's something refreshingly authentic about their live performance that just makes you feel good."