Tonight marks Jim James' sixth appearance on our stage as he showcased his new solo album Regions of Light and Sound of God. In his new solo work James and his band explored new sounds. Based on the spiritual journey of God's Man, Lynd Ward's woodcut graphic novel from the 1920s, James' music floated more than drove. Exchanging the guitar-heavy rock bombast he is known for from his band My Morning Jacket for a more atmospheric sound, his music seemed to invite us to listen rather than demand our attention. James stayed close to  the microphone adding some sliding dance steps here and there and playing as much saxophone as guitar.
"State of the Art," "Know Til Now" and "Of the Mother Again" incorporated 70s soul grooves into the mystic textures, letting Dan Dorff's acid electric piano and Alana Rocklin's rubbery bass keep the clouds moving. The electronica-infused pop of "Dear One" and "A New Life," both spiritual love songs of sorts, moved from sedate to theatrical, the melodies working in tandem with arrangements meant to draw out the soul. Perhaps most impressive was the celebratory "All is Forgiven," which incorporated an Arabic melody, jazzy grooves, multiple tempos and an expansive instrumental arrangement  to convey its near-gospel message. "God's Love to Deliver" was even more eclectic, starting as a dreamy waltz, moving through Rocklin's MIDI bass solo and ending in a hailstorm of thrashing drums from Dave Givan and distorted guitar feedback from James and sideman Kevin Ratterman.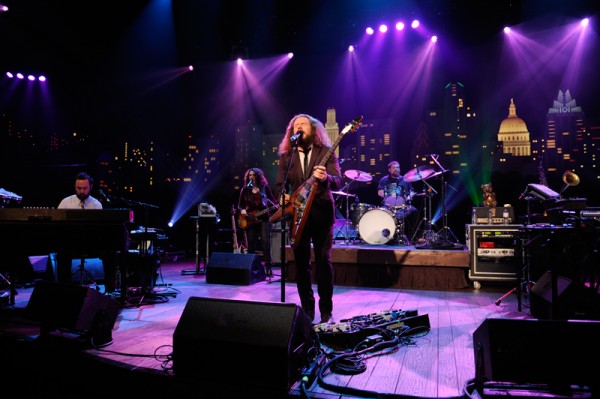 For the encore, James dipped into his back catalog, with a lovely solo acoustic version of MMJ's "Wonderful (The Way I Feel)" and a take on Monsters of Folk's "His Master's Voice" that fit with his solo work both texturally and thematically. James ended with a widescreen take on "Changing World," a track from the New Multitudes project with Jay Farrar, Anders Parker and Will Johnson that puts unrecorded Woody Guthrie lyrics in a modern context – a perfect capper to James' fusion of traditional and modern.
This experimental performance showed yet another side to Jim James' talent, and we're pleased he chose to document it with us. We're anxious for everyone to see it in the fall – keep an eye on this space.