Our latest installment of the gear blog features Bob Mould and is written, as always, by our front of house engineer Kevin Cochran.
"This is a Big Deal."
At the risk of sounding selfserving, it's been a red letter year for the Austin City Limits TV program. I'll let you review the list of heavy hitters that have walked our boards this taping season, but this week's artist is my personal favorite for all of Season 38. Coincidentally, it's been a red (rad?) letter year for Bob Mould as well. After an interlude from recording, Bob came back with one of the strongest albums of his career and ended up topping a drove of "best of lists" for 2012.
It's especially gratifying to see someone who started as a recusant of underground music and grow into a well revered personage for musicians and music fans from all walks.
Mixing front of house was a good friend of Austin City Limits and mine, Jeff Byrd. Jeff has mixed FOH for Spoon, Explosions In The Sky, and a few other tapings. As usual, he brought a Midas Heritage 3000 and a bunch of outboard gear provided by Big House Sound .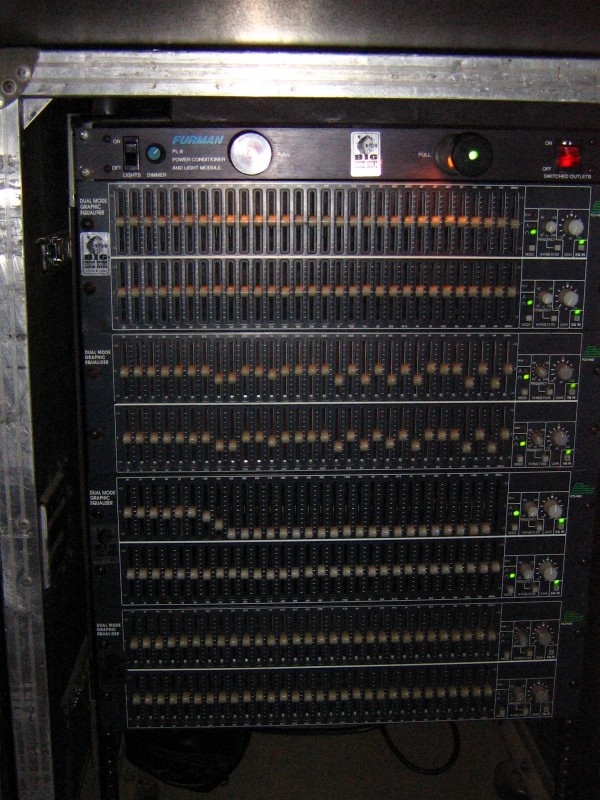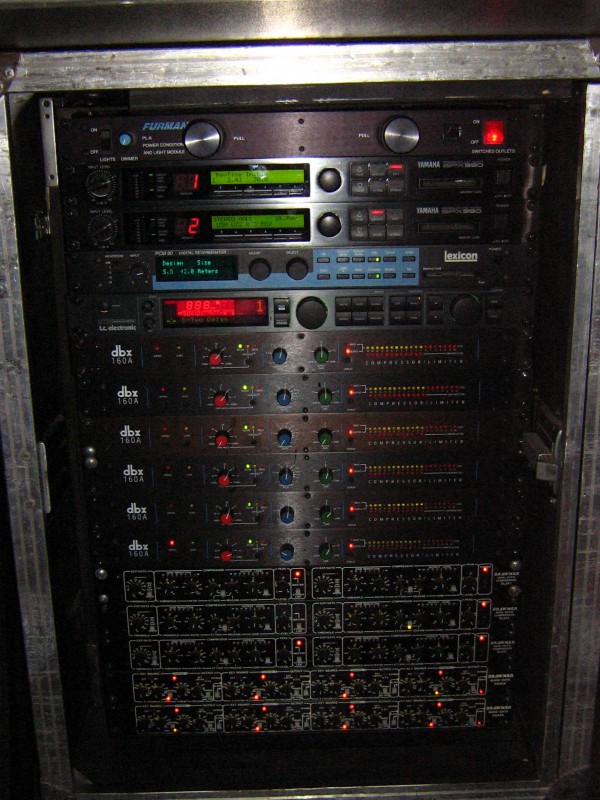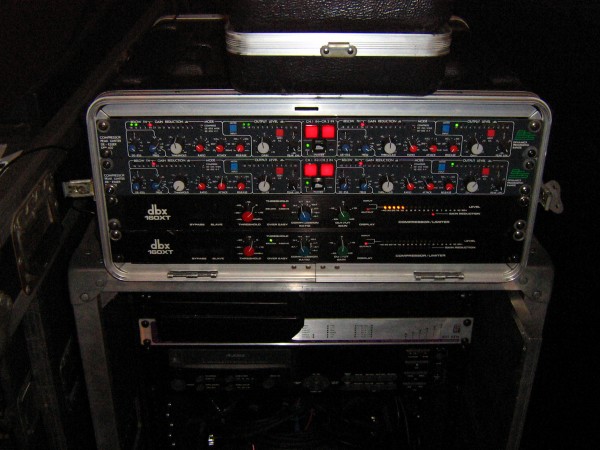 Bassist Jason Narducy played a red sparkle Fender Precision Bass passing through a Boss RC-50 Loop Station , a Boss FS-6 dual footswitcher, then a Radial JPC DI. We've used this piece of gear quite a bit at KLRU, as the go-to DI for computers, iPods, and DJ rigs. Radial doesn't make useless gear, but we've really gotten our money's worth out of this one.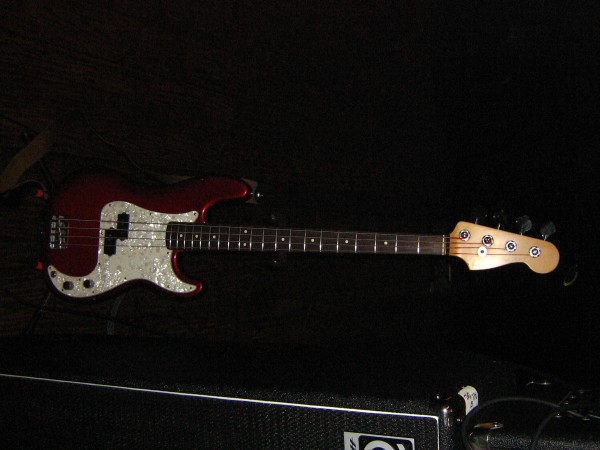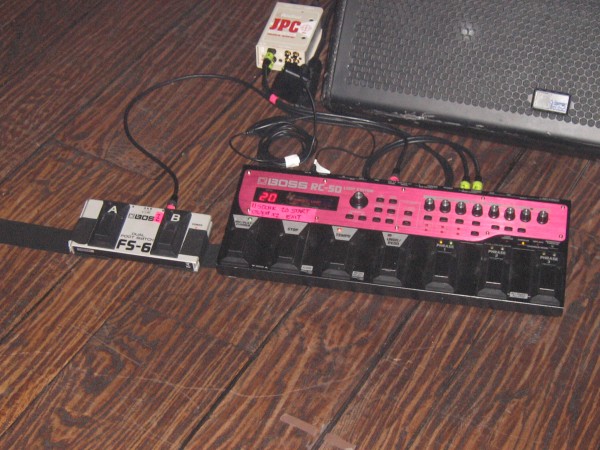 For the taping, Jason ran into the ubiquitous Ampeg SVT Classic head, running into a 810E cabinet. Jason's signal passes through and is split by a Radial J48 before hitting the amp head.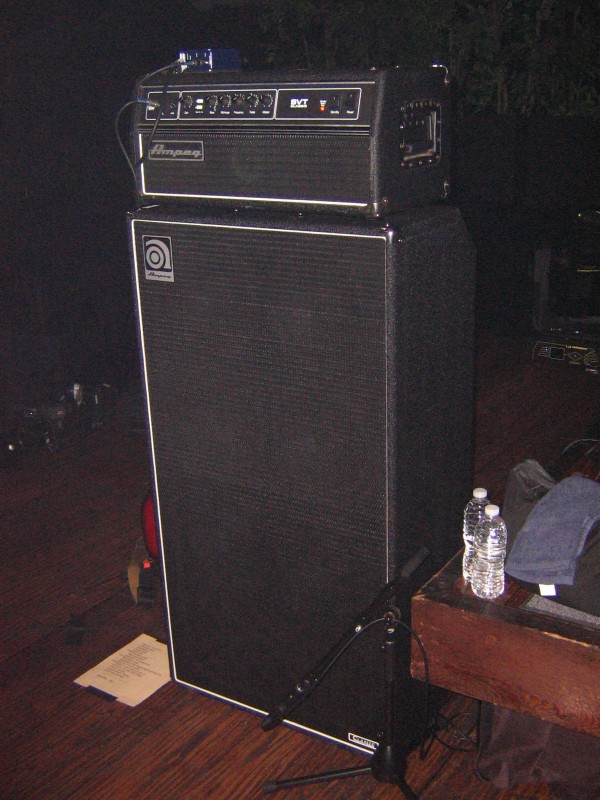 Mould's live shows are synonymous with volume and for our taping, he used mixture of the old and the new. To the left is a Blackstar 100 head. Blackstar Amplification was started in 2007 by a group of former Marshall employees and has made many converts in its short history. I'd never encountered a Blackstar in person before, but was impressed at its versatility between getting "classic" and "modern" guitar tones and all points in between. On the left is a vintage (I believe) Marshall 1987 100 watt head, provided by Soundcheck Austin. The Marshall hadn't been rented in years and was being finicky, causing Mr. Mould a little consternation. After being given a little attention by the Soundcheck guys, it was brought back to life and is probably one of the best-sounding amp heads I've ever heard. Bob became more relaxed as camera rehearsal progressed and commented, "Okay, this sounds like me."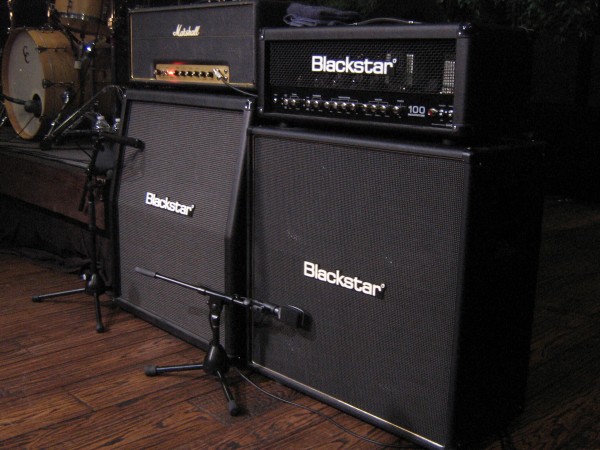 After 15 seasons of working for the show, I don't fanboy or fawn like I used to, but Bob's sound, that day, was one of the best guitar tones I've ever heard.  It just sounded… right.   Doug Chappell, one of our audio crew, has worked with everyone from ZZ Top to Armored Saint and doesn't get worked up about anything anymore. Even he was impressed.
The most surprising thing about this set-up is that the cabinets are wired out of phase from one another. I'm told this is an old trick to counteract feedback at the vocal microphone when dealing with loud guitar volumes. Our head of audio, David Hough, remarked that sometimes steel guitar players will wire their Fender Twin speakers out of phase to get a "poor man's stereo". That would just drive me nuts. Both guitar channels were flipped into the same phase for the broadcast mix.
To the left of Bob's rig is Jon Wurster's C&C drum kit.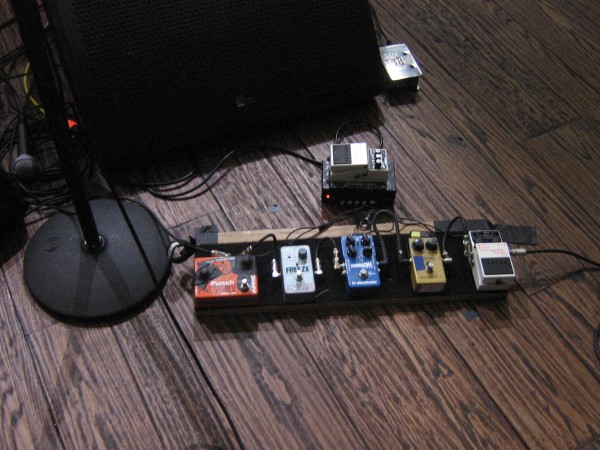 Bob's pedal board includes a Aphex Punch Factory, an optical compressor, an Electro Harmonix Nano Freeze, a TC Electronic Flashback Delay, a MXR Distortion +, and a Boss Tuner.
To the upper right appears to be a Boss NS-2 Noise Suppressor, resting atop a Voodoo Labs Iso 5 power supply.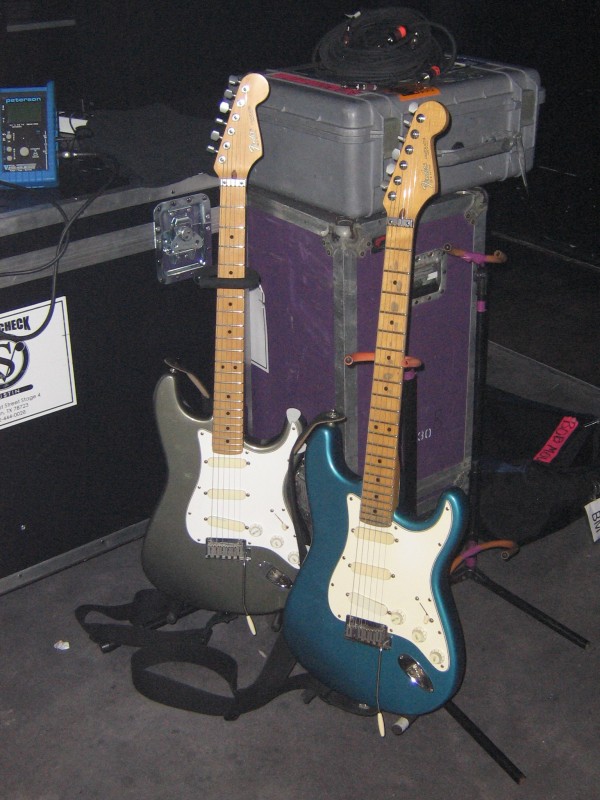 If you've seen Bob Mould play an electric guitar in the past 25 years, it's probably been this very one to the right, a 1987 Lake Placid Blue Fender Stratocaster. The Fender company was bought by CBS from its founder, Leo Fender, in 1965 and the next 20 years are widely considered the nadir in quality and reputation of Fender instruments. Bill Schultz and other Fender employees bought the company from CBS in 1985 and within a couple years the Fender brand began regaining its lost glory. In 1987, Fender introduced a new line of Stratocasters that included locking tuners, the Wilkinson nut, an improved vibrato system, and Lace-Sensor pickups.
In our post show interview (which I like to call the "debriefing"), Michael Toland, ACL's chief archivist, asked Bob to talk about his guitar.
Bob Mould talks about his Stratocaster guitar on Austin City Limits from Austin City Limits on Vimeo.
The silver guitar to the right is a backup of similar vintage and by the looks of the fingerboard, rarely gets played.
I really enjoyed taping this episode. Bob himself was the consummate professional and gentleman as was his band and crew. All he asked of Sachiko Robertson, our monitor engineer, was a loud, clear vocal (preferably not feeding back) and then he was happy. After years of touring clubs with sketchy sound systems, that probably goes a long way.
More importantly, it's gratifying to see someone who's paid their dues receive deserved recognition, and still be humbled by the experience. When we were starting our soundcheck, Bob looked around the studio and remarked, "This is a big deal."  That show was true for me, too.