After a magnificent celebration of soul with Bonnie Raitt and Mavis Staples, we're shifting gears this week to give you some of the best the indie rock world has to offer. In this all-new episode, the Shins return for their second ACL episode, while Dr. Dog makes its debut appearance on our stage.
The last time Albuquerque-to-Portland band the Shins appeared on ACL was in 2004 (Season 30). Eight years later, singer/songwriter James Mercer brings a brand new crew in support of the group's acclaimed fourth LP Port of Morrow. The quintet samples the latest record with "September," "It's Only LIfe," "The Rifle's Spiral" and the appropriately catchy single "Simple Song," hitting a real sweet spot between rich, melodic hooks and Mercer's clever, literate lyrics. But the band also digs deep into the Shins catalog, bouncing through "So Says I," from breakthrough record Chutes Too Narrow, and reaching all the way back to its debut by closing the set with "New Slang." It's a masterful performance by a band hitting the peak of its powers.
For its first appearance on ACL, Dr. Dog proves why it's a favorite on the live circuit. Adding a dash of jam band spice to its psychedelic indie rock batter, the Philadelphia sextet knows how to have a good time playing, while still keeping its songs catchy and concise. The band opens this episode with "Lonesome," the tune that begins its much-heralded seventh LP Be the Void, kicking off the show to rollicking effect. "Jackie Wants a Black Eye" and "Vampire" keep the party going, and by the time the Dog hits a trio of tunes from its fan-favorite LP Fate, ending with "The Rabbit, the Bat and the Reindeer," Dr. Dog lets us know just why it's been such a popular concert draw in its decade of existence. As executive producer Terry Lickona says at the beginning of the show, "Great songs and live energy make for a winning combination."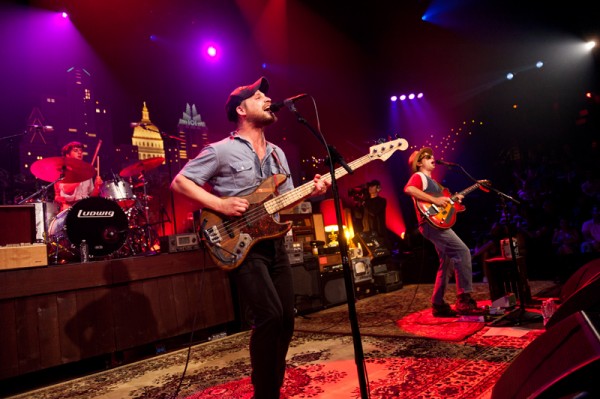 To get info on when and where to tune in to this excellent episode, check here for local listings. Also, don't forget to "Like" us on Facebook or follow us on Twitter or Tumblr for more updates about tapings, giveaways, and sneak peeks. Tune in next week for another Season 38 debut with the Civil Wars and Punch Brothers.