Norah Jones has been on Austin City Limits twice before, including recording a show before the release of her gazillion-selling debut Come Away With Me. But tonight's taping was different than what she's done before. Armed with a gamechanging new record and more self-confident stage presence than ever before, the Texas-born singer/songwriter dazzled the Moody Theater with a performance full of texture, groove and soul.
It's no secret that Little Broken Hearts, her latest LP produced and co-written by acclaimed polymath Danger Mouse, was inspired by a relationship gone down the tubes. But while failed romance may be bad for Jones' personal life, it's great for her music. The acid-tinged pop of "Happy Pills" and assertive rock of "Say Goodbye" well support the kiss-off lyrics. Indeed, psychedelia seems to be a new touchstone for Jones, as it is for Danger Mouse – the moody atmospheres of "All A Dream" (on which she took the first guitar solo) and "Little Broken Hearts" and the distorted rock of "Take It Back," aided and abetted by Jason Roberts on extra spacey guitar, put her music on a new plane, onto which the audience was happy to follow her.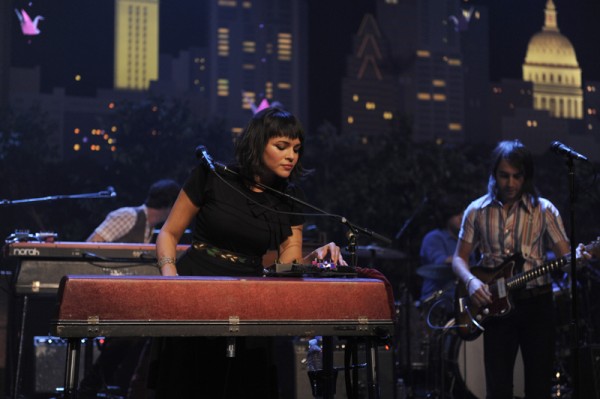 This new sound is no radical break from her past, however. Jones blended it with songs in her more familiar style and nothing sounded out of place. She performed the whimsical "Man of the Hour," a tribute to the superior companionship of a dog over a boyfriend, solo at the piano, while "She's 22" was just as subdued, even as the lyrics wavered between bitter and dismissive. She combine her new and old approaches on "Miriam," a brilliant song whose pretty melody and arrangement belie the lyrics' depiction of a murder in progress.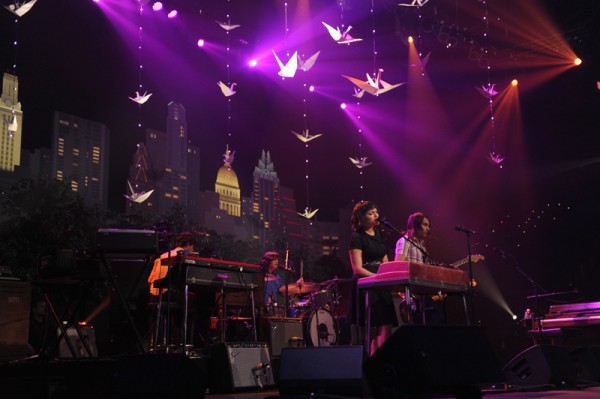 Jones closed the show with "Lonestar," "an old Texas song from my first album," as the crowd went wild. But she had a special treat for the encore. She and her band returned to the stage with unplugged acoustic instruments, giving the unreleased Hank Williams song "How Many Times Have You Broken My Heart" a gorgeous read around a single microphone. She closed the evening with "Come Away With Me" in the same style, reinventing her standard to the delight of her loyal ACL fans.
The Norah Jones episode will air in early winter – details forthcoming. Don't miss it!