"You'll have to forgive me, I'm finding myself a little bit speechless tonight," commented Kat Edmonson. She may have been at a loss for words when it came to talking, but when it came to singing, she had no hesitation. Owner of both a soulful tone — somewhere between Billie Holiday and Blossom Dearie — and a sterling set of songs, Edmonson lit up the stage for her Austin City Limits debut.
The singer/songwriter has the amazing ability to produce fresh material that sounds, shall we say, experienced – the jaunty jazz tune "Long Way Home," for example, or the lullaby-like waltz "I'm Not In Love," which could have come from a 60-year old Disney film. "What else can I do," she crooned over a samba rhythm, "I'm still in love with you" from "What Can I Do?" sounded like an old standard, but is, in fact, an Edmonson original.  Even the blues-tinged ballad "Hopelessly Blue," written by Miles Zuniga of the Austin rock band Fastball, came across as a great tune rediscovered.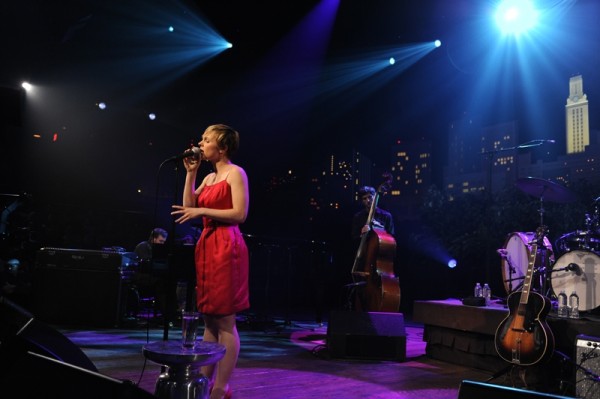 Edmonson sang several of her tried and true songs including the sly "Champagne," the slinky cha-cha "This Was the One" and the string-driven "Lucky."  Her lauded skills as an interpreter were also on display as she mesmerized the crowd with a pair of gorgeous, melancholy ballads drawn from different decades: the Beach Boys' Pet Sounds classic "I Just Wasn't Made For These Times" and the 1940-vintage Ink Spots slow dancer "Whispering Grass." She closed the set with the straightforward folk/pop of "I Don't Know," a Willie Bobo-associated song written by Sonny Henry, the author of Santana's "Evil Ways."
By the end of the show, Edmonson had led the audience back to the start, opening and closing the evening with the same song. She gave her tune "Nobody Knows That" a frothy jazz/pop reading at the beginning, then stripped it down to piano and voice for the encore. It was a perfect way to bookend a stellar evening that celebrated song and voice in equal measure. We can't wait for you to see and hear the remarkable Kat Edmonson – this fall on PBS.