We love to present new music and show off current artists hitting their prime. But we're happy to honor the veterans and the lifers – the folks whose work has stood the test of time. In that light, we welcome Steve Miller Band and Preservation Hall Jazz Band to the ACL stage this weekend.
Steve Miller Band need no introduction – lauded rock guitarist Steve Miller and his various partners-in-crime have been knocking around since the late 60s, leaving a string of indelible hits in their wake. Remember "Abracadabra?" "Fly Like An Eagle?" "Space Cowboy?" Of course you do, and you'll hear them all on Saturday in front of an enthusiastic crowd in what was the very first taping of ACL at the Moody Theater.
The Preservation Hall Jazz Band has been around even longer than Miller – the group's genesis coincides with the founding of the Hall itself back in 1961, and the style of New Orleans jazz the band plays goes back even further than that. History lives on in PHJB's performances. But don't think that means that the group is preserved in amber. Joining the band onstage are Yim Yames from My Morning Jacket, James Petralli from White Denim and the ever-elegant Del McCoury Band to add their inimitable contemporary mojo. Once you hear "St. James Infirmary" sung by a high-voiced indie rock frontdude, you'll realize it's what you've always wanted.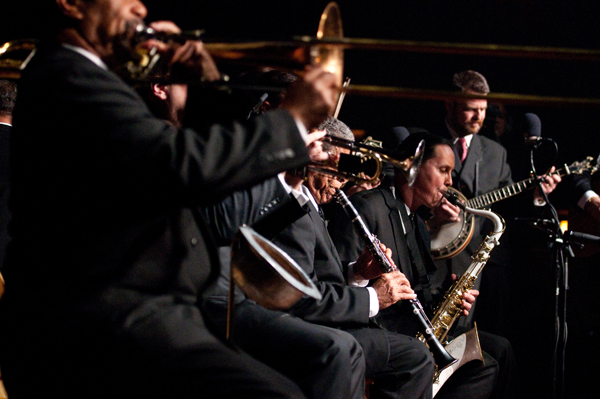 Tune in this Saturday for your classic rock 'n' jazz fix – as always, check your local PBS listings for the broadcast time in your area. Toggle over to the episode page for more info, and don't forget to click over to our Facebook, Twitter and Tumblr pages for more ACL goodies. Next week: Rosanne Cash and Brandi Carlile.