We are excited to share the official Austin City Limits Holiday Gift Guide! We've selected a handful of gifts from shop.acltv.com sure to please all the music-lovers and ACL fans on your list. Scroll down for our favorite stocking stuffers too!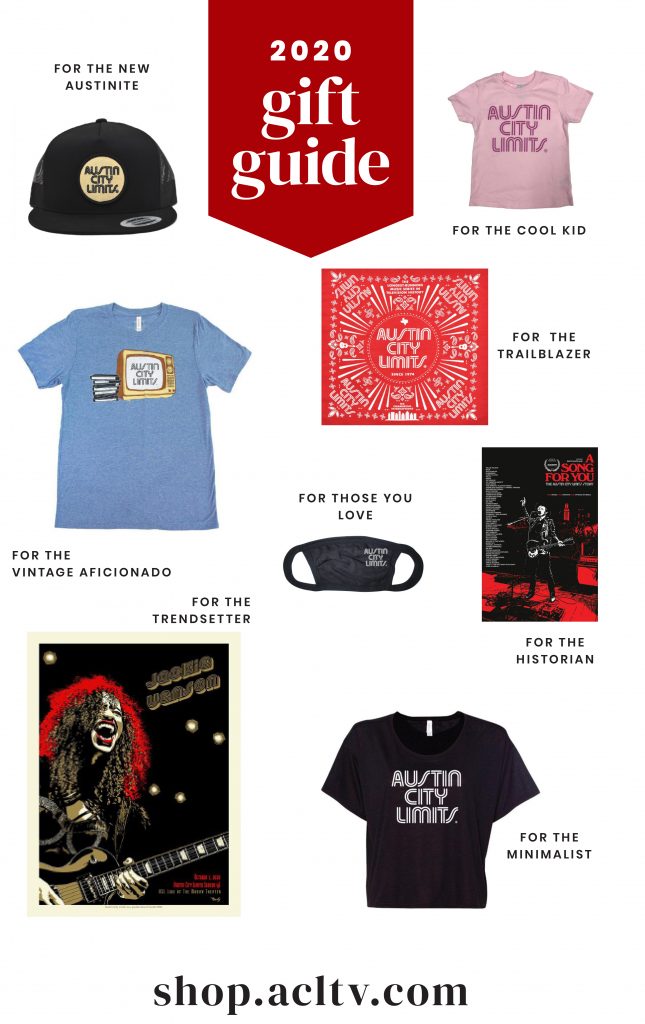 Welcome to Austin! Barton Springs…check…South Congress…check…The Greenbelt…check… You've checked out the spots that make Austin, Austin. Now look the part in your new ACL Black & Tan Mesh Flat Bill Snapback Hat. You'll be fitting in here in ATX in no time.
Your kid will be the envy of all the preschoolers when she shows up showing off her pink ACL toddler tee. Who wants to be a princess when you can be a rock star?
Remember the good ole days of VHS tapes and bulky TVs? We sure do – we've been around for 46 years! Wear this tee and bask in the nostalgia of it all.
Who knew a mask would end up being THE trendy accessory of 2020? Stay safe in style with our ACL-branded black mask. Whether you buy ours or not, please take precautions to stay safe. We love and miss y'all and can't wait to see you soon!
Austin has many wonderful hiking trails – so you're probably going to need to take along some bandanas for your hikes. It may be cooler now, but in the summer these things are a lifesaver – we recommend soaking it in ice water and wrapping it around your neck before you hit the greenbelt. Your dog would look very stylish sporting one of these too – so maybe grab two while you're at it.
If you've lived in Austin for a while, you've probably heard the buzz – Jackie Venson is on her way. Hopefully you caught her sensational national TV debut right here on Austin City Limits. If you were as blown away as we were, we're sure you'll want to grab this VERY limited edition poster that Jackie herself helped design. Peruse our collection of commemorative taping posters while you're there – you never know what gems you'll find…
Do you live in Austin? Do you even have an ACL tee yet? If not, this is the perfect starter tee. You literally cannot go wrong with this classic. Choose from a black unisex tee and a women's boxy tee for your fit of choice. Once you put it on, like magic you'll start seeing it everywhere.
Want to win the ACL category at pub trivia? Just watch this documentary to get all the inside scoop and behind-the-scenes stories – while also catching incredible performances by some of the most amazing musicians to ever grace the ACL stage.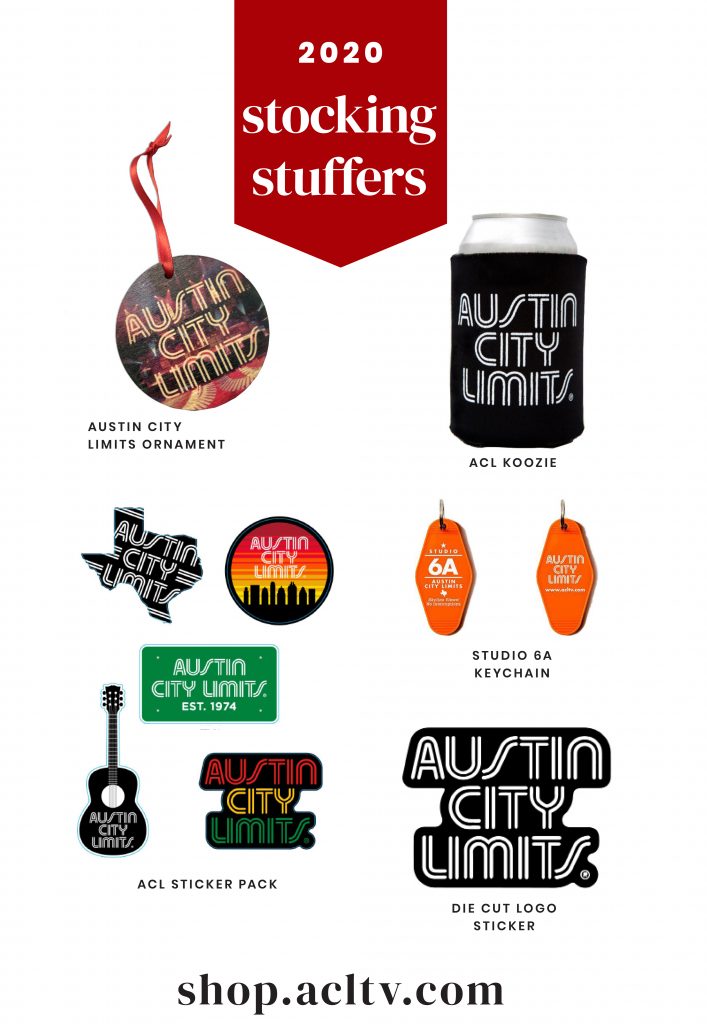 Some of our favorite stocking stuffers:
Austin City Limits holiday ornament
Happy holidays from all of us at Austin City Limits! Wishing you and yours a healthy, happy and music-filled holiday season. ✨✨✨