"Welcome to my fourth decade on Austin City Limits!" declared the legendary Bonnie Raitt after taking the stage at the Moody Theater in her fourth headlining appearance, for a taping that doubled as the final show of her most recent tour. A true statement – the beloved singer, songwriter, and slide guitarist previously taped in Seasons 9, 28, and 38. We're always happy to welcome back the ACL Hall of Famer, who's long been one of our besties, and this time she returned as a newly-minted multiple Grammy winner, including Song of the Year, thanks to her latest album Just Like That…. Raitt always brings her best to the ACL stage, making this, our final taping for Season 49, a treat on many levels.
Joined by her crack band (bassist Hutch Hutchinson, drummer Ricky Fataar, keyboardist Glenn Patscha, and guitarists Duke Levine and George Marinelli), Raitt traveled through the past thirty years of her long career, drawing deep cuts from records recent and revered. In great voice and with her stinging slide guitar as potent as ever, she revisited her hit album Luck of the Draw for the blues-rocking "No Business" and her acclaimed Silver Lining for the defiant breakup tune "Back Around." She plucked her sultry cover of INXS's "Need You Tonight" from her last album Dig In Deep, and grabbed two classics from her 1989 breakthrough LP Nick of Time: the reggae-grooved "Have a Heart" and the wisdom-frosted title track. "I've been wanting to sing this for Austin City Limits for a while," revealed Raitt.
Of course she performed a generous helping of tunes from the acclaimed Just Like That…, including a pair of her recent Grammy-winning gems, the slinky Best Americana Song "Made Up Mind" and Song of the Year winner "Just Like That," alongside the soulful ballad "Blame It on Me"and the bopping rocker "Livin' For the Ones." She dedicated the Grammy-winning title track to her longtime friend John Prine. "This is a song I wrote inspired by singing 'Angel From Montgomery' every night," she noted about the deeply moving track. "This is for John." She and the band ended the main set to big cheers with a medley of Rufus & Chaka Khan's devilishly funky "You Got the Love" and her own groovy hit "Love Sneakin' Up On You."
For the encore, Raitt invited her tourmate Sunny War onstage to sing and play guitar on a bluesy, primarily acoustic cover of Jackson Browne's socially charged "World in Motion." As she indicated earlier, no Bonnie Raitt show is complete without John Prine's "Angel From Montgomery," and she sang it beautifully for her late friend in salute to his forthcoming induction into the ACL Hall of Fame this month. That was intended to be the final song, but no. "I don't wanna stop playing," Raitt asserted. "Are you kidding me?" The band then laid into a steamy cover of B.B. King's "Never Make a Move Too Soon," which Raitt herself cut with R&B legend Ruth Brown, in honor of "one of the greatest blues towns in America – Austin, Texas!" With the warm familiarity and unabashed love of old friends getting together, Bonnie Raitt delivered magic in her long-awaited Austin City Limits return, carving her name yet again in ACL history.
.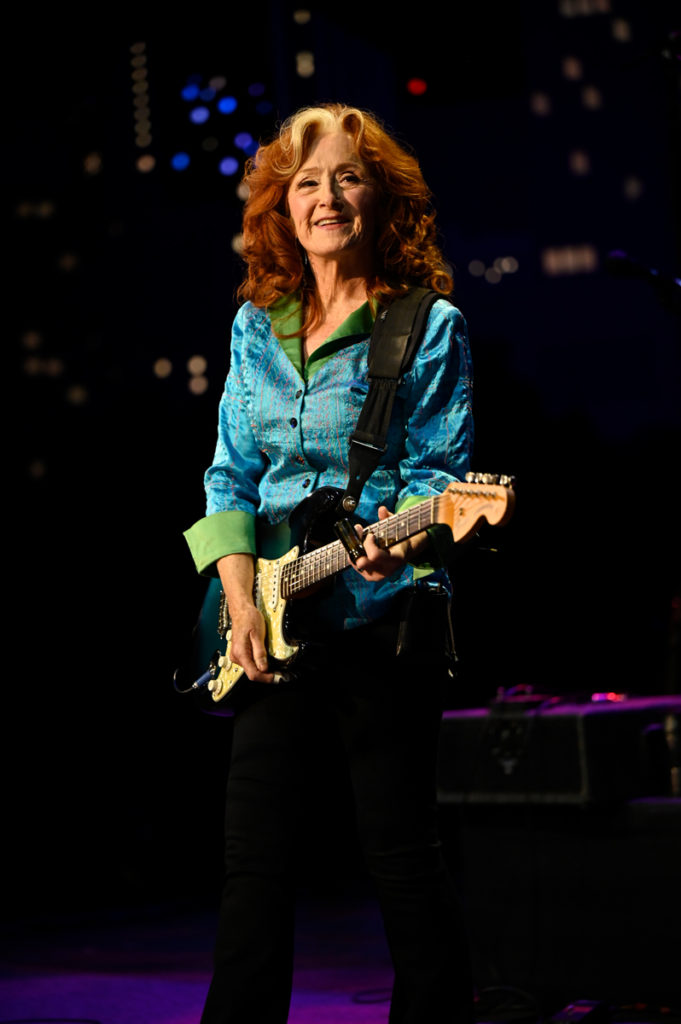 Setlist:
Made Up Mind – Just Like That…
No Business – Luck of the Draw
Blame It On Me – Just Like That…
Back Around – Silver Lining
Just Like That – Just Like That…
Livin' For the Ones – Just Like That…
Need You Tonight – Dig In Deep
Nick of Time – Nick of Time
Have a Heart – Nick of Time
You Got the Love/Love Sneakin' Up On You – Rufus & Chaka Khan cover/Longing In Their Hearts
Encore:
World in Motion – Jackson Browne cover
Angel From Montgomery – Streetlights
Never Make A Move Too Soon – B.B. King/Crusaders cover
Bonnie Raitt – vocals, guitars, piano
Duke Levine – guitar, mandolin
George Marinelli – guitar
James "Hutch" Hutchinson – bass
Glenn Patscha – keyboards
Ricky Fataar – drums
Sunny War – vocals, guitar