"Man, I've been watching these since I was a kid," said Noah Kahan after the first song in his debut Austin City Limits taping. "I never thought I'd get a chance to be here." Now that he was, the Vermont native made the most of it. Clad in a beige jumpsuit ("I don't have the muscle definition for a tanktop, so what am I supposed to do?") and backed by his five-piece band, Kahan played nearly every number from his breakthrough album Stick Season (We'll All Be Here Forever). Clearly a devotee of both the quiet and the loud, Kahan shifted easily from the banjo-driven folk of "All My Love" and "Orange Juice" to the overt rock anthemry of "She Calls Me Back" and "Northern Attitude." "Your Needs, My Needs" shifted from one to the other (and back). Though known for baring his soul in his songs, he was quick to lighten the mood with a playful quip or two – sometimes even during the song ("Put your hands up, Austin! Never mind, I don't like it!").
At other times Kahan took the opportunity to get real and go deeper with his fans. Left alone onstage, Kahan introduced his song "Growing Sideways" addressing his mental health struggles throughout his life, noting he entered therapy at eight years old and hit a moment of clarity years into adulthood. "I was 22 when I started telling the truth," he admitted, "and I was much happier." Honesty put the audience in the palm of his hand, prompting them to sing a key lyric – clearly Kahan's not the only one who hears an artist speaking plainly about personal trials and feeling seen. Still wearing his heart on his sleeve, he even choked up during "The View Between Villages," an ode to his hometown, during the encore.
That vulnerability and personal connection drove Kahan's performance as much as his talent. "I'm coming down to say hi to this man and his family," Kahan exclaimed, leaving the stage to shake hands with the entire front row as his band performed the build-up to "Northern Attitude," during which the crowd sang an entire verse by themselves. He extended the same creative freedom to "Everywhere, Everything," "Orange Juice," and "False Confidence," a fan favorite and the only tune from an album outside Stick Season. Fans and singer came together on "Dial Drunk," the frisky country rocker that became his first hit and "Stick Season," the song that "changed my life" and garnered the biggest crowd singalong yet. The show ended with the rocking "Homesick" and the audience jamming out, showcasing Kahan's deft blend of cathartic blast and ardent earnestness to its fullest effect. 
Noah Kahan – vocals, guitar, mandolin
Noah Levine – guitar, banjo, vocals
Dylan Jones – keyboards, banjo, mandolin, vocals
Alex Bachari – bass, vocals
Marcos Valles – drums, vocals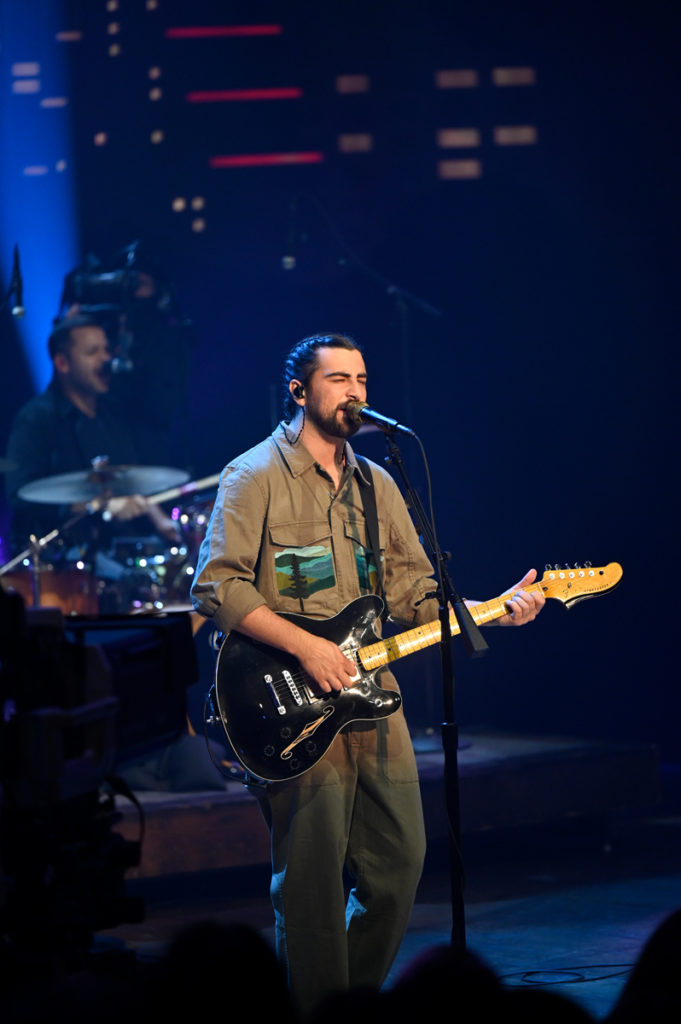 Setlist:
All My Love – Stick Season
She Calls Me Back – Stick Season
New Perspective – Stick Season
Everywhere, Everything – Stick Season
Your Needs, My Needs – Stick Season
Growing Sideways – Stick Season
Paul Revere – Stick Season
Northern Attitude – Stick Season
False Confidence – Busyhead
Call Your Mom – Stick Season
You're Gonna Go Far – Stick Season
Orange Juice – Stick Season
Dial Drunk – Stick Season
Encore:
The View Between Villages – Stick Season
Stick Season – Stick Season
Homesick – Stick Season