It's only a slight exaggeration to say that Texas music is synonymous with singer/songwriters. Not only that, but a certain special breed of singers and tunesmiths, whose ears are wide open to different sounds and whose Lone Star roots are deeply embedded within their music. Raised in the East Texas town of Conroe and seasoned at Austin's own Saxon Pub, Parker McCollum is the fastest rising country star in the new generation, with a major label contract, a best-selling album in Gold Chain Cowboy, a just-announced nomination for New Artist of the Year at this year's upcoming Country Music Awards, and, now, his debut on Austin City Limits, which we live streamed around the world.
"It's the first time I get to say it," said the baseball-capped singer as he took his position at center stage. "What's goin' on, Austin City Limits?" He and his ace six-piece band then launched into the heartland rock of "Young Man's Blues," a cut from his 2020 Hollywood Gold EP that introduced McCollum to the wider world. The musicians wasted no time, going straight into the rocking but romantic "Wait Outside," from his breakthrough Gold Chain Cowboy. "I don't know how many bands started out at the Saxon and then did a live Austin City Limits taping, but we're certainly one of 'em," remarked McCollum wryly before singing "Stoned," a new song destined for the next record. Strumming his acoustic with swagger, McCollum led the band into the anthemic, celebratory "To Be Loved By You." The singer then went back to his debut album The Limestone Kid for "Meet You in the Middle," a frisky country rocker with spitfire guitar solos from Brady Beal and Alex Weeden.
"I hope the gratitude is just radiating off of us tonight," McCollum smiled, acknowledging his family, introducing his band and singing the ballad "Like a Cowboy" with all the heart in his body. Then he introduced a just released single, the catchy "Handle On You," which felt like an immediate audience favorite. The open-hearted McCollum mentioned how he had to delay the taping twice, first due to a broken finger and then illness, and he waited to be in top form to get this ACL moment right, and the singer aptly introduced the introspective folk rocker "Rest of My Life" to cheers from the crowd. The band launched into the brash rocker "Fallin' Apart," which McCollum noted was co-written by his producer Jon Randall and Miranda Lambert (both last seen on our stage in 2021 memorably debuting their The Marfa Tapes collaboration), along with fellow Texas songwriter Randy Rogers. After that blazer, it was only appropriate to go back to the honky-tonk for the brokenhearted boozer's ballad "Drinkin'." That tune segued directly into "Love You Like That," a lighter-waver both uncertain and hopeful.
McCollum then monologued about the writing of the next song "Hell of a Year," explaining how he choked up singing it during soundcheck when he remembered writing it in the drive-thru of an Austin Whataburger, finally feeling like he'd written a good song. He balanced the heart-on-sleeve poignancy of the tune by drolly noting that the song was written about 2017, but gained new resonance in 2020 – "It's every songwriter's dream, for a song to be relevant twice." McCollum returned to the heartland for the widescreen rocker "Why Indiana," and the already fired-up audience showed their love for the penultimate "Pretty Heart," the double-platinum first single from Gold Chain Cowboy. McCollum once again expressed his gratitude to his family (many of whom were present in the audience) and to ACL before ending the show with the heartfelt power ballad "I Can't Breathe," once again to the crowd's great delight. The band returned to the stage with "Happy New Year," a tune from The Limestone Kid that represented not only where he came from but where he's headed. The music ended, but McCollum didn't leave the stage – he couldn't, as he was surrounded by legions of fans and autograph seekers, who he was happy to indulge. It was a hell of a debut show, and we can't wait for you to see it when it airs this fall on October 29 as part of our upcoming Season 48.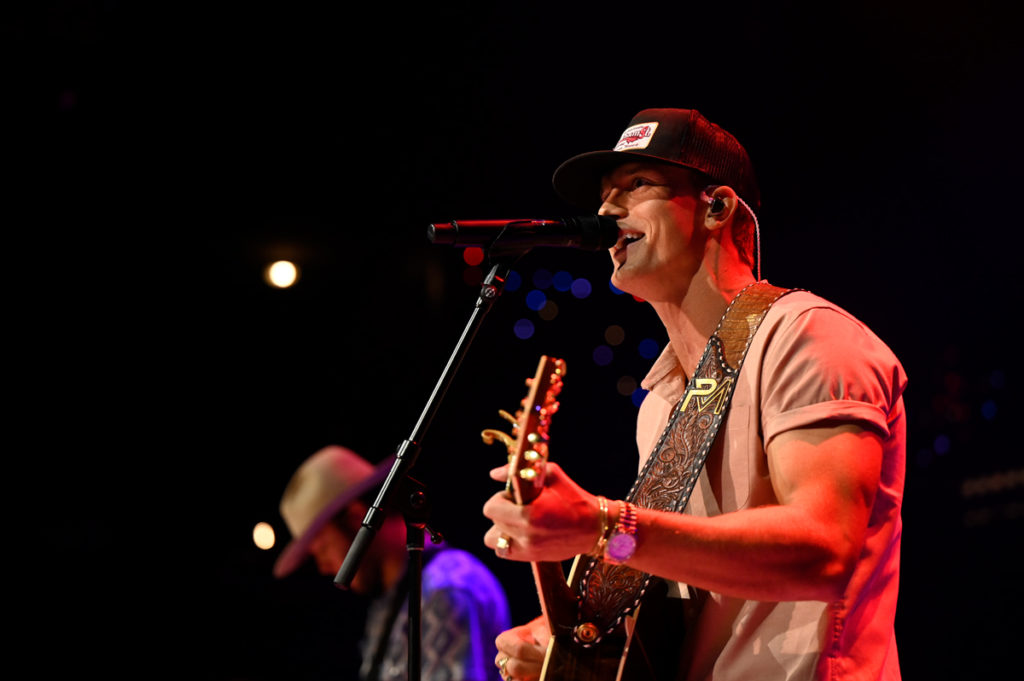 Parker McCollum tapes Austin City Limits for the first time, Sept. 7, 2022. Photos by Scott Newton.