There are few artists in music in the twenty-first century more respected and beloved than Brandi Carlile, and we're always glad to have her back on Austin City Limits. Having gone from strength to strength and triumph to triumph since she first played our show back in 2010, the award-winning singer, songwriter, producer and activist made her third appearance with a stunning show centered around her much-admired seventh LP In These Silent Days.
The set began with a "Twintro," as Carlile's longtime musical, harmony and songwriting partners Tim and Phil Hanseroth came onstage from opposite sides for some six-string crosstalk. The rest of the band came up to fill up the sound, then Carlile herself arrived, picked up her guitar, and launched the hard rocking "Broken Horses." The band followed up with the twins manned stompboards as well as their axes for the breathless folk rock of "The Thing I Regret," a Firewatcher's Daughter tune and a showcase for their harmony blend with their bandleader. Singers/string players Monique and Chaunte Ross (last seen on our stage in May with Allison Russell) and Kyleen King came onstage for the homespun family devotional of "You and Me On the Rock," leading Carlile to exclaim, "All these joyful noises!" Joined by cellist Sara Nelson for the full four-piece string section, Carlile took to the piano with the twins around her for lush three-part harmonies on the beautiful love song "This Time Tomorrow." Carlile picked her acoustic back up for "The Mother," a sweet and witty fan favorite from her prior LP By the Way, I Forgive You, enhanced by the string quartet. The tributes to motherly devotion continued with "Mama Werewolf," a frisky country rocker that "told the truth about what kind of mother I really am."
"I think we should get trippy," Carlisle noted as she brought singer/songwriter/guitarist Celisse to the stage (thereby explaining the pink sparkly guitar rig with "Celisse loves you" written on it) for a gorgeous, psychedelic take on the David Bowie classic "Space Oddity," with harmony guitars from Celisse and Tim Hanseroth and a sleek segue into a powerhouse version of Radiohead's "Creep," capped off by the guest's crowd-approved guitar solo. The only way to follow that one-two punch was a complete change of pace, thus the acoustic-wielding Carlile and the twins gathered around an old-fashioned microphone for "Cannonball," a harmony-driven folk delight from her breakthrough The Story. The singer then went back up to the piano for "Right On Time," her hit from In These Silent Days, replaced by pianist Shooter Jennings as she came back to her guitar to send the song into spectacular flight. The band kept the lighter-waving vibe alive with "Sinners Saints and Fools," another powerful, defiant anthem from Days that the musicians – especially the strings, percussionist Jeff Haynes and guitarist Tim Hanseroth – sent into orbit. There was only one way to end the set after that: with musician intros and "The Joke," the incredible song of love and empowerment that's become Carlile's signature tune, and one earning her rapturous applause.
There was no way anyone was ready to let her go after that, however. The band kicked off the encore with Celisse on a bluesy version of Joni Mitchell's classic "Woodstock," to loud applause. Afterward, the string section came forward and gathered around the old-fashioned mic and the band ripped through Carlile's Woody Guthrie-esque folk rocker "Hold Out Your Hand," a great opportunity for audience sing- and clapalongs. Accompanied only by strings, piano, Hanseroth harmonies and her own acoustic guitar, Carlile ended the show with the benediction "Stay Gentle," seguing smoothly into a solo version of the classic standard "Over the Rainbow." Blessings thus bestowed, Carlile beckoned the band back onstage for a final bow to passionate applause. It's clearly the foundation of a classic episode, and we can't wait for you to see this season highlight when it airs this fall as part of our Season 48 on your local PBS station.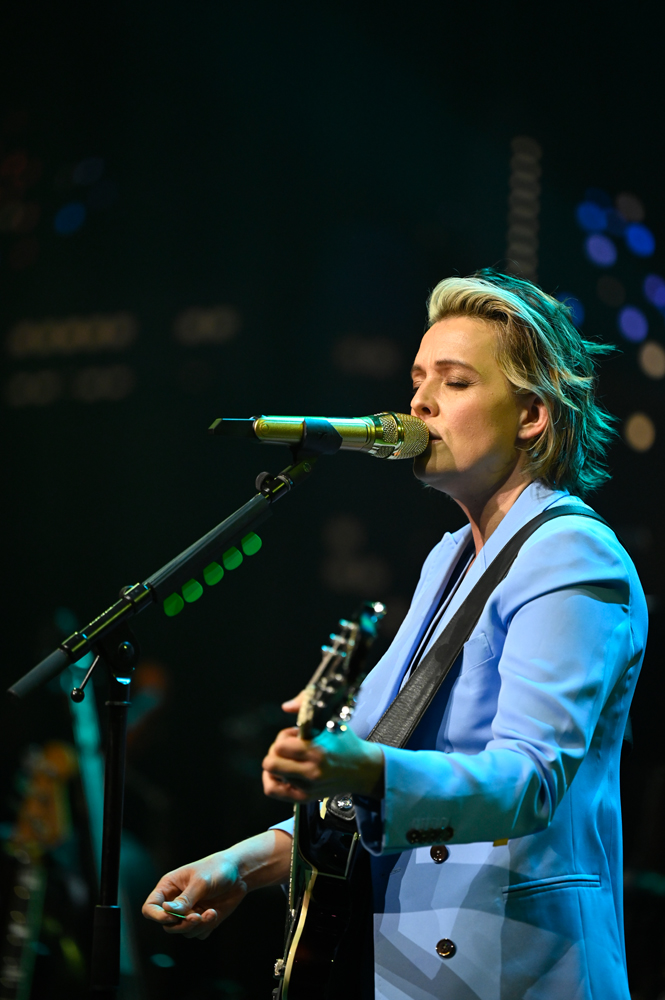 Brandi Carlile, the Hanseroth twins and band tape Austin City Limits for the third time, July 13, 2022. Photos by Scott Newton.