Austin City Limits presents a Season 45 highlight: the return of powerhouse rockers The Raconteurs, the supergroup featuring Jack White, Brendan Benson, Patrick Keeler and Jack Lawrence making their first appearance in over a decade in a must-see new installment. The hour also introduces one of the 2020 GRAMMY® "Best New Artist" nominees, Austin breakout duo Black Pumas.
The Raconteurs return with a full-tilt romp featuring killer gems from the acclaimed HELP US STRANGER, their third studio LP and first album in more than a decade. Featuring both Jack White and Brendan Benson as lead singers/guitarists AND songwriters, with an ace rhythm section of Jack Lawrence (bass) and Patrick Keeler (drums), The Raconteurs deliver a love letter to classic rock in a performance for the ages. Fellow Detroit natives Benson and White trade-off lead vocals in a blistering six-song set of pure rock and roll. The hard-driving combo dip back into 2008's GRAMMY®-winning Consolers of the Lonely for the searing "Top Yourself" anchored by White's mighty guitar work, then a nod to the Sixties with an ecstatic cover of Donovan's 1965 classic "Hey Gyp (Dig the Slowness)". With dazzling showmanship and guitars shredding in harmony, the band tears into the number that introduced The Raconteurs to the world, "Steady, As She Goes," from their 2006 debut Broken Boy Soldiers. White leads the crowd in call-and-response with the audience chanting "Are you steady now?" before the face-melting anthem erupts into an epic blitz of guitar bliss.
"As usual, Jack White is doing what comes natural – reminding us that rock and roll is alive and well, and in his hands the power of the guitar has no match," said ACL executive producer Terry Lickona.
Fast-rising Austin act Black Pumas, a collaboration between former L.A. street musician Eric Burton and GRAMMY®-winning guitarist/producer Adrian Quesada, cap an explosive breakout year with a luminous debut on the ACL stage. Described as "Wu-Tang meets James Brown" by KCRW, the soul-funk duo locked down their reputation for thrilling live shows with non-stop gigs, winning Best New Band at the 2019 Austin Music Awards. Fresh off their nomination for the 2020 GRAMMY® Awards prestigious "Best New Artist" honor, Black Pumas showcase highlights from their acclaimed 2019 self-titled debut. Singer Burton radiates soul on scorching opener "Know You Better" and the singles "Colors" and "Black Moon Rising." Accompanied by powerhouse back-up singers, and the smoking guitar of Quesada, the Pumas bring an irresistible, simmering groove to the Austin City Limits stage.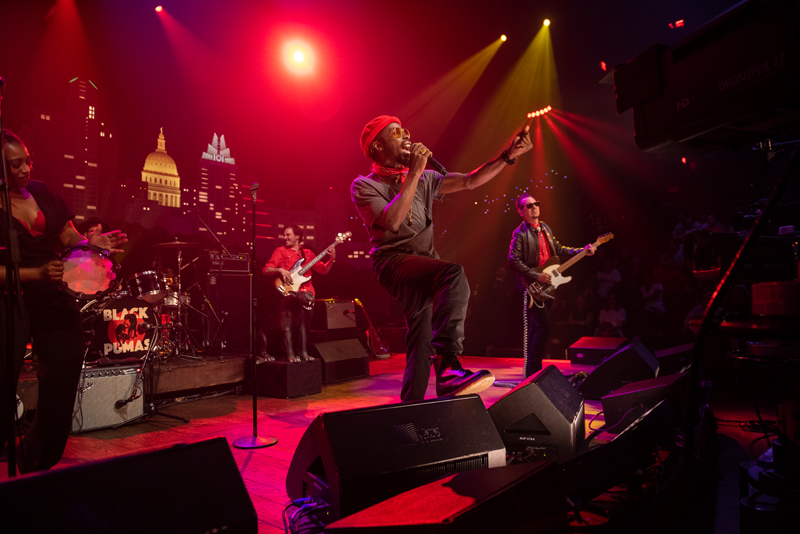 "Black Pumas started as a fun idea in the studio, then took off like a rocket and spread their love and high-octane energy around the globe," added Lickona. "They truly are Austin's newest musical ambassadors to the rest of the world."
Tune in this weekend for this episode, and, as always, check your local PBS listings for the broadcast time in your area. Go to the episode page for more info, and don't forget to click over to our Facebook, Twitter and newsletter pages for more ACL info. Join us next week for another new episode, featuring the sophisticated art pop of singer/songwriter Mitski and the exuberant indie rock of Rainbow Kitten Surprise.