Austin City Limits spotlights Vampire Weekend in a must-see hour featuring the indie-rock band's epic return showcasing their long-awaited new album Father of the Bride alongside classic gems from their catalog.
Vampire Weekend performs a suite of songs off the celebrated, chart-topping Father of the Bride, their fourth album and first in six years. The seven-piece, led by frontman Ezra Koenig, unpack new gems: "Sympathy," "Bambina,""2021," "My Mistake," and "This Life," showcasing their irresistible knack for melody and lyrics that capture the complexities of 21st-century life. The group perform select favorites from their catalog, including the breakthrough "A-Punk" from their 2008 debut and the rhythmic, Afrobeat "White Sky" from 2010's landmark Contra. Koenig's 2014 collaboration with EDM producer SBTRKT, "New Dorp. New York," is here transformed into a Vampire Weekend funk-rock epic. A set highlight is an extended version of new classic "Harmony Hall," a masterful, melodic wonder that opens with an iconic guitar riff and accelerates into a joyful piano sprint. The perfectly-paced set comes to a powerful close with Koenig's stunning vocal on the hymnal, cathartic anthem "Jerusalem, New York, Berlin."
"There's never been a better time to appreciate Vampire Weekend, given the world we live in today," said ACL executive producer Terry Lickona. "I've always been a fan of Ezra Koenig's voice and his new songs are more personal and inward-looking than ever. Vampire Weekend has remained tried-and-true – popular without ever becoming pop!"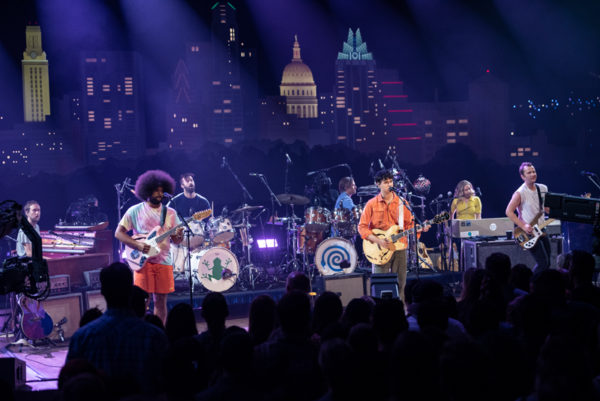 Tune in this weekend for this episode, and, as always, check your local PBS listings for the broadcast time in your area. Go to the episode page for more info, and don't forget to click over to our Facebook, Twitter and newsletter pages for more ACL info. Join us next week for another brand new episode, featuring two sides of modern country music with Kane Brown and Colter Wall.