Austin City Limits presents a Season 45 highlight: Steve Earle & The Dukes spotlighting the songwriting legacy of the legendary Guy Clark. Americana stalwart Earle makes his fifth appearance on the ACL stage paying tribute to his mentor, the late Texas singer-songwriter and ACL Hall of Fame legend Guy Clark, in a heartwarming hour filled with choice classics and personal anecdotes. Performing a collection of gems from his acclaimed Clark tribute album Guy, Earle is accompanied by his five-piece band The Dukes, and special guests including Rodney Crowell, Joe Ely, Terry Allen and Jo Harvey Allen. The episode is capped with vintage clips from Clark's own ACL appearances, including his 1977 debut.
Steve Earle kicks off the hour appropriately singing "I wish I was in Austin…," the infamous opening of Guy Clark's "Dublin Blues." In his signature bandana, the Americana maverick Earle showcases a true Texas icon in this moving hour, filled with entertaining stories and personal tales from Earle's longtime relationship with one of his main songwriting influences. Earle explains how he, at 19, first met Guy after hitchhiking from Texas to Tennessee, eventually playing bass in Clark's band "until Guy needed a better bass player." Earle shares the stage with special guests: Texas legend Joe Ely joins Earle for the beloved Clark signature "Desperados Waiting For A Train"; and Rodney Crowell collaborates on a rousing duet of "Heartbroke", an early nugget Crowell first recorded in 1980. Earle performs a stunning solo acoustic reading of "Randall Knife," adding his own powerful take on a Clark classic. "I guess I should play a couple of songs of mine so y'all won't think Guy didn't teach me anything," quips Earle before launching into gorgeous renditions of a pair of his own: "Guitar Town," the 1986 track that introduced Earle's talents to the world, and "Copperhead Road". "That's what I learned from Guy Clark," asserts Earle before bringing Ely and Crowell back, joined by Lubbock legends Terry Allen and Jo Harvey Allen, saying "Everyone here loved Guy Clark." The Texas natives close out the hour together with a poignant rendition of the Clark gem, "Old Friends," as each artist takes a turn at the mic: "...Old friends they shine like diamonds." Earle leads the audience in a final round of the chorus, before calling out directly to his songwriting hero at the close: "Guy Charles Clark—see you when I get there, maestro."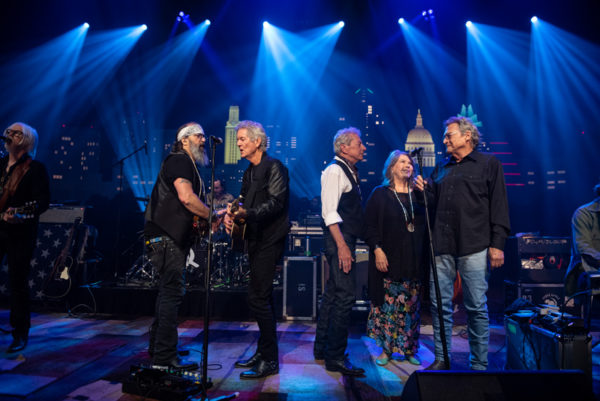 "There's nobody better suited personally, musically, or emotionally to bring new life to the songs of Guy Clark than Steve Earle," says ACL executive producer Terry Lickona. "Guy's songs are timeless, but Steve makes sure that nobody will forget why he will always be considered the Dean of Texas songwriters."
Tune in this weekend for this episode, and, as always, check your local PBS listings for the broadcast time in your area. Go to the episode page for more info, and don't forget to click over to our Facebook, Twitter and newsletter pages for more ACL info. Join us next week for another brand new episode, featuring rising R&B star H.E.R.