Austin City Limits proudly presents a Season 44 highlight: a golden hour with celebrated singer-songwriter John Prine. The American original shines in his first ACL appearance since 2005, showcasing beloved classics alongside selections from The Tree of Forgiveness, his first collection of new material in 13 years, and the highest-charting release of his storied five-decade career.
Prine made his ACL debut on Season 3 in 1978 and returns for his eighth appearance during a banner year; he is a first-time nominee for the 2019 Rock & Roll Hall of Fame and was named Artist of the Year for the second consecutive year at the 2018 Americana Honors & Awards. The 72-year old folk hero captivates with his astute songwriting in this career-spanning hour, introducing many of the songs with his unique humor and wit. Prine dazzles with his singular knack for storytelling on subjects as varied as sticking up for the dwarf planet Pluto, and the rituals of egg farmers in Lincoln, Nebraska.
He opens the show climbing The Tree of Forgiveness with his four-piece band, performing seven selections from the acclaimed release, before taking the stage solo for a singalong of his early career highlight "Illegal Smile," the opening track on his self-titled 1971 debut. Prine is joined by Kentucky native and rising songwriter Tyler Childers, who duets with his mentor on the musical last will and testament "Please Don't Bury Me" from 1973's Sweet Revenge. The fan favorite "Lake Marie" showcases Prine's masterful way with words before he caps the heartfelt set with a pair of gems: new album closer "When I Get to Heaven," and his classic "Paradise," the final track on his '71 debut. Bouncing back and forth between spoken recitation and joyful singing on "When I Get to Heaven," the songwriter offers a good-time singalong about leaving this world on a high note. When Prine gets to heaven, he tells the Austin crowd, "I'm gonna get a guitar and start a rock 'n' roll band/check into a swell hotel/ain't the afterlife grand?"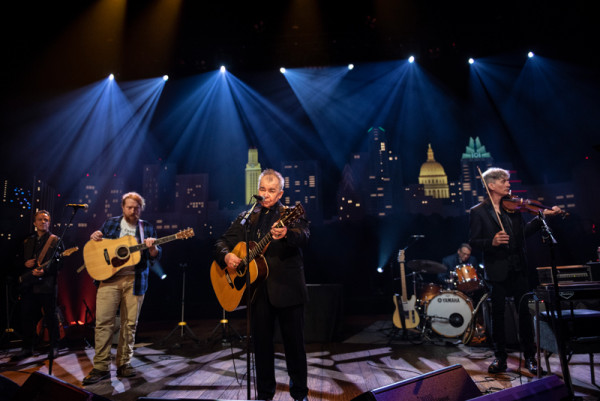 "John Prine is a unicorn," says ACL executive producer Terry Lickona, "a true original among American songwriters, unlike any other. What better way to celebrate his birthday week and his nomination to the Rock & Roll Hall of Fame than to show what he does best – sing the songs he wrote, old and new, to an adoring audience and with his devilish sense of humor very much intact."
Tune in this weekend for this episode, and, as always, check your local PBS listings for the broadcast time in your area. Go to the episode page for more info, and don't forget to click over to our Facebook, Twitter and newsletter pages for more ACL info. Join us next week for a brand new episode featuring blue-eyes soul singers Sam Smith and Anderson East.