Austin City Limits launches a new season of must-see performances with an epic hour showcasing one of the most compelling figures in contemporary music: innovative art-rock performer St. Vincent.
First appearing on ACL in 2009, the groundbreaking Texas native—born Annie Clark—delivers a thrilling, 13-song career-spanning set in a visually and sonically stunning hour. Dressed in a red vinyl bodysuit and matching thigh-high stiletto boots and set amidst the backdrop of a futuristic production, the singer-songwriter-guitarist is backed by a three-piece ensemble, including two male musicians rendered as faceless mannequins on electronics and drums. St. Vincent's mesmerizing set draws heavily from her critically-acclaimed fifth album MASSEDUCTION, with highlights including a segue from the guitar-shredding coda of "Pills," into the vulnerable musical eulogy of "New York." The album's hypnotic title track opens with bassist/keyboardist Toko Yasuda chanting "power corrupts" in Japanese, while Clark unleashes furious guitar licks amidst a flurry of strobes. The setlist also reaches back to 2009's Actor and 2011's Strange Mercy for back-to-back gems "Marrow" and "Cruel." Robotic voices signal fan-favorite "Digital Witness" from 2014's Grammy Award-winning St. Vincent. As she rounds out the hour, Clark offers a pair of highlights from MASSEDUCTION: the defiant anthem "Fear the Future" and the set-closing ballad "Slow Disco," as the Austin crowd joins in on the soaring chorus, "Don't it beat a slow dance to death?"
"Originality is one of the most important criteria for choosing artists for ACL," said executive producer Terry Lickona, "and St. Vincent is one of the most original artists I've ever come across. She pushes the envelope musically, so we decided to push the envelope ourselves with one of the most unique Austin City Limits episodes you'll ever see."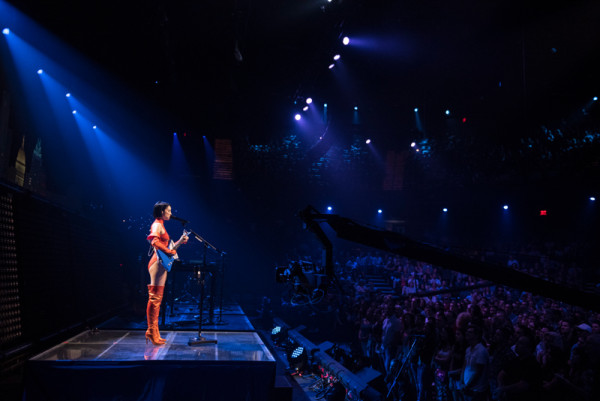 Tune in this weekend for this episode, and, as always, check your local PBS listings for the broadcast time in your area. Go to the episode page for more info, and don't forget to click over to our Facebook, Twitter and newsletter pages for more ACL info. Join us next week for another brand new episode featuring songwriting legend John Prine.