Austin City Limits presents a dazzling hour featuring one of today's most popular artists: Ed Sheeran. The worldwide superstar returns to the ACL stage in a stunning solo performance showcasing fan favorites and hit songs from his blockbuster album ÷ (Divide), the biggest-selling album of 2017.
Next generation singer-songwriter Sheeran shines in a ten-song tour de force, opening with the soaring anthem "Castle on the Hill," one of the latest classics from his double-platinum Divide, Sheeran's third studio album. "I feel this is going to be quite fun tonight," enthuses the 26-year-old British phenom who first appeared on ACL in 2014. The one-man marvel performs solo with only his guitar and a loop pedal to layer his vocals, in a striking, intimate hour. Sheeran thrills with career highlights including his breakthrough hit "The A Team," "Thinking Out Loud," (which won him his first two Grammy Awards in 2016), and "Perfect," a stunner from Divide Sheeran calls "my favorite song I've ever written." The Austin audience is happy to follow his lead for the show-stopping set-closer "Shape of You," the record-breaking chart-topper which recently became Spotify's most-streamed song ever with over 1 billion plays. The musical dynamo is transcendent as he jumps from amp to amp, while working his loop pedal, drumming on his guitar and directing the willing crowd in a euphoric sing-along.
"There aren't enough superlatives to describe Ed Sheeran's many successes, but underlying everything is a genuine talent that makes him stand out," says ACL executive producer Terry Lickona. "What's remarkable is that at 26 his songs have connected with so many fans literally all over the globe. This is the first time that his unique one-man show has been captured for a full hour on broadcast television."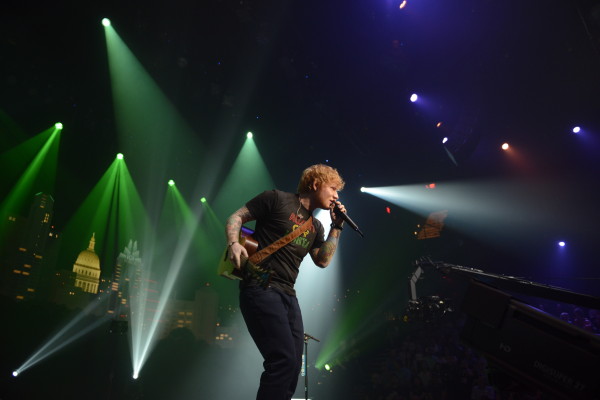 Tune in this weekend for this episode, and, as always, check your local PBS listings for the broadcast time in your area. Go to the episode page for more info, and don't forget to click over to our Facebook, Twitter and newsletter pages for more ACL info. This episode will also feature on American Airlines' in-flight entertainment channel in June. Join us next week for an encore featuring two of today's most exciting rock and soul artists: Florence + the Machine and Andra Day.