Austin City Limits showcases left of the dial faves TV On The Radio and The War On Drugs, splitting the bill in a brand new installment. Two of today's most critically-acclaimed indie rock bands, both acts make powerful debuts in their first appearance on the ACL stage.  
First up is TV On The Radio, formed in Brooklyn in 2001 and considered one of the most influential bands of the decade. The quartet showcase tracks from their latest and widely-acclaimed album Seeds. TVOTR's originality and eclectic musical spirit—encompassing psychedelia, soul, electronica and urgent punk rock—is evident in their masterful five-song set, opening with the hard-driving "Lazerray" and grappling with pain and loss in the soulful, emotional closer "Trouble." Witness an act that continues to make music boldly on their own terms, always pushing forward to become one of the best bands of its generation.
Philadelphia band The War On Drugs perform songs from their 2014 breakthrough Lost in the Dream, which earned widespread praise and landed the top spot on many critics' album-of-the-year lists. Kicking off a gorgeous set with "Under the Pressure", the song Spin declared record of the year, the rock outfit build momentum creating lush soundscapes filled with musical craft and intricate instrumentation. Bandleader Adam Granduciel's Dylanesque vocals, cathartic lyrics and grand-scale guitar solos unfold to reveal expansive, dreamy atmospherics for a memorable debut.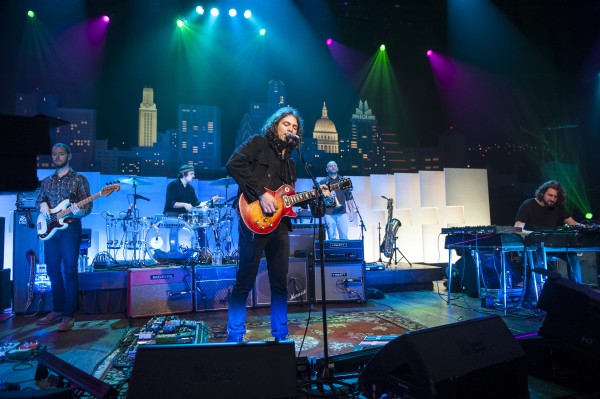 "Indie music has been an important part of ACL's musical legacy over the past two decades, but it's a big umbrella that covers a vast musical landscape," says ACL executive producer Terry Lickona. "Both TV On The Radio and The War On Drugs stand out as virtuoso live musicians, but their songs and vocals are what caught my ear. They are personal yet accessible to anyone who is a fan of great music."
Tune in this weekend for this episode, and, as always, check your local PBS listings for the broadcast time in your area. This episode will also make its debut on American Airlines' in-flight entertainment channel in June. Go to the episode page for more info, and don't forget to click over to our Facebook, Twitter and newsletter pages for more ACL info. Tune in next week for an hour with global pop star Ed Sheeran.