Austin City Limits presents an hour with two extraordinary singer-songwriters, Jason Isbell and Amanda Shires. The husband and wife duo unite for a special double-bill as Americana star Isbell returns to the ACL stage to share an episode with his partner and collaborator Shires as she makes her solo ACL debut.
One of the finest American songwriters today, Jason Isbell returns with songs from his sixth studio album The Nashville Sound, which topped critics' year-end best lists and is nominated for two 2018 Grammy Awards, including Best Americana Album. The Alabama native, already a two-time Grammy honoree, is joined by his band The 400 Unit for a masterful 6-song set that captures the artist at the peak of his creative powers. Kicking things off with the anthemic "Hope the High Road," a set highlight follows with an exquisite version of the Grammy-nominated track "If We Were Vampires," a haunting love song inspired by partner Shires, who joins him in close harmony. The ace songsmith displays his storytelling gifts, inhabiting his characters' interior lives in the social gut-punch "White Man's World" and detailing the tale of a homesick southerner in "Last of My Kind." 
A musical marvel from Nashville by way of Texas, Amanda Shires has been a fixture on the circuit since she began her career as a teenaged fiddler with renowned Western swing institution the Texas Playboys and has toured and recorded with outlaw country maverick Billy Joe Shaver, John Prine and most recently as a member of Isbell's band The 400 Unit. She makes her ACL debut performing cuts from her acclaimed solo release My Piece of Land, showcasing intimate, confessional songs augmented by her powerful playing. Shires commands the spotlight on her own with rousing set-opener "My Love (The Storm)" wielding her fiddle to fiery effect. Isbell joins Shires for a duet on the crowd-pleasing rocker "Wasted and Rollin'," a song she wrote about the early stages of their relationship, and the pair close out the set in beautiful harmony on the heartfelt duet "Pale Fire."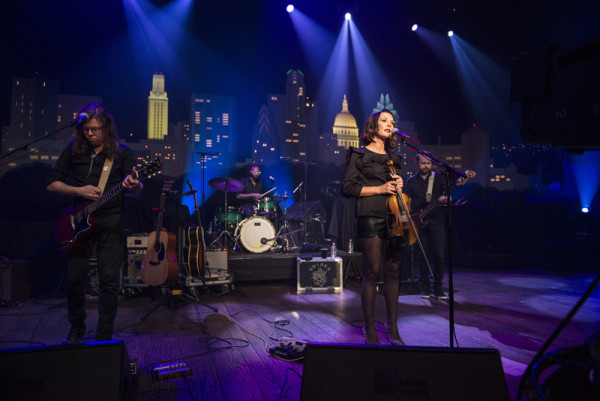 "Jason Isbell is the finest American songwriter today, IMHO," said ACL executive producer Terry Lickona. "He has the uncanny ability to write songs that are at the same time deeply personal and universal. Amanda Shires defies the traditional stereotype of male-dominated Texas songwriters with her own beautifully personal songs. Together they are a unique force in popular music of any genre."
Tune in this weekend for this episode, and, as always, check your local PBS listings for the broadcast time in your area. Go to the episode page for more info, and don't forget to click over to our Facebook, Twitter and newsletter pages for more ACL info. Join us next week for another brand new episode, featuring jazz legend Herbie Hancock.