Austin City Limits showcases two of today's most acclaimed singer-songwriters in a new installment. ACL veteran Norah Jones and indie breakout star Angel Olsen share the episode, with distinctive performances demonstrating the extraordinary range of the genre.
Norah Jones made her first appearance on Austin City Limits in 2002, just prior to the release of her landmark debut Come Away With Me, which propelled her to the world stage. Since then, Jones has sold 50 million albums worldwide and is a nine-time Grammy-winner. She returns for her fourth appearance on the series performing new songs from her sixth album Day Breaks, a kindred spirit to Come Away…and a return to her piano and jazz roots. Seated at her grand piano, the native Texan delivers a stately performance featuring new gems, including the stunning originals "Flipside" and "Carry On," and gorgeous renditions of Neil Young's "Don't Be Denied" and Horace Silver's jazz standard "Peace." Jones closes out the set on acoustic guitar surrounded by her bandmates as they gather around a single microphone for an inspired cover of the Grateful Dead's "Ripple," reimagined as a folk classic.
A unique voice in indie music, Angel Olsen shares songs from her widely-acclaimed release My Woman in a compelling, confident ACL debut. "I have a couple things I'd like to share with you tonight. A couple of feelings and a couple of songs," says the dynamic singer-songwriter-guitarist. Her powerful vocals anchor her longing, demanding love songs as the Austin crowd sing along rapturously. Olsen's five-piece band, sharp in matching powder blue suits, join in soaring harmonies to breathtaking effect. The indie stunner has the crowd in her pocket as she closes with a highlight, the reverb-shrouded poetic swoon of "Shut Up Kiss Me," an anthem for the ages.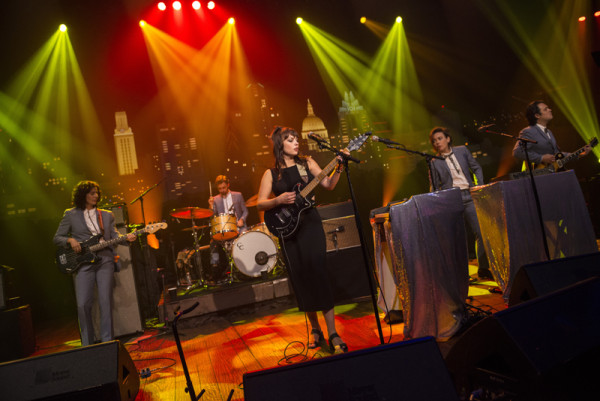 "Norah and Angel are very different singers, but they share that special ability to convey deep personal feelings in a way that connects with you," says ACL executive producer Terry Lickona. "Norah continues to surprise with each new musical offering, and Angel is just amazing."
Tune in this weekend for this episode, and, as always, check your local PBS listings for the broadcast time in your area. Go to the episode page for more info, and don't forget to click over to our Facebook, Twitter and newsletter pages for more ACL info. Join us next week for a brand new episode, featuring the return of country star and our friend Miranda Lambert.