Austin City Limits is happy to announce a trio of upcoming livestreams featuring some of this season's most highly-anticipated performers: Jason Isbell & the 400 Unit, Amanda Shires and Father John Misty. ACL will host back-to-back live streams from a rare double shoot with acclaimed singer-songwriters Jason Isbell & the 400 Unit and Amanda Shires. The creative collaborators (and husband and wife team) will each perform separate sets, with Shires up first in her solo ACL debut streaming live starting at 8pm CT/9pm ET on ACLTV's YouTube Channel; Isbell takes the stage after a 20-minute intermission and his return ACL appearance will stream live at approximately 9:20pm CT/10:20pm ET.  The next day on August 22 join us to witness the captivating Father John Misty in his solo ACL debut, which will stream in its entirety live from the Austin City Limits stage at 8pm CT/9 pm ET on ACLTV's YouTube Channel.
One of the finest songwriters working today, Alabama native Jason Isbell first-appeared on ACL back in Season 39 and returns August 21 with his band the 400 Unit to perform gems from the acclaimed new album, The Nashville Sound, a beautiful piece of American music-making. Isbell has earned numerous accolades since his ACL debut on the heels of 2013's career breakthrough Southeastern, including a pair of GRAMMY Awards for 2015's Something More Than Free, and we're thrilled to have the American original back on our stage.  
A fixture on the Texas circuit since she began her career as a 15-year old fiddle player touring with Western swing institution the Texas Playboys, Amanda Shires has toured and recorded with John Prine, Billy Joe Shaver, Todd Snider, Justin Townes Earle, Shovels & Rope, and most recently her husband and creative partner Jason Isbell, with whom she first-appeared on ACL in 2013. The Texas native makes her solo debut on the ACL stage with songs from her acclaimed release My Piece Of Land.  Produced by Dave Cobb, the very personal record deals with family, anxiety, and the phases of a young woman's life, but the primary focus is the concept of home. Shires addresses the similarities and differences between the home she was born into, the two homes she was eventually split between, and the home she has finally made for herself as a wife and new mother.  We're delighted to have her back home in Texas and on the ACL stage.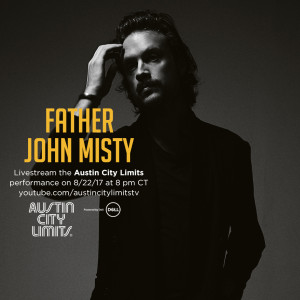 Now known as Father John Misty, the erstwhile Josh Tillman (under which name he first appeared on ACL in 2012 as the drummer for Fleet Foxes) makes his long-awaited solo debut on our stage in support of his third solo release, the madly ambitious new album Pure Comedy.  Inspired by the chaos and uncertainty of modern life, the charismatic indie-rock provocateur writes about the dubious privilege of being here, the elusiveness of meaning, true love and its habitual absence, random euphoria and the inexplicable misery of others, truth and its more alluring counterfeits, the sophistication of answers that don't make any sense, the barbarism of our appetites, lucky breaks and injustice, faith and ignorance, crippling, mind-numbing boredom, and the terror of it all ending too soon.  Variety recently hailed him "the greatest rock star of his generation" and we're thrilled to bear witness when he takes the ACL stage on August 22, streaming live for fans across the globe.

Please join us both August 21 and 22 for these full-set livestreams on our ACLTV YouTube Channel. Jason Isbell & the 400 Unit and Amanda Shires will stream here and Father John Misty here. The broadcast versions will air on PBS as part of our upcoming Season 43 which premieres this fall.