We at Austin City Limits are greatly saddened to learn of the passing of the great singer/songwriter Leonard Cohen at the age of 82.
Transcending genre, the Montreal native was one of the most unique figures in all of popular music. Many songwriters are credited with bringing literary acumen to their work, usually without any real justification. But for Cohen it's true – he'd already had a career as a poet and a novelist before turning to music as his main artistic outlet, and he brought his full authorial weight to the songs he recorded. His lyrics reveal a craftsman's eye, knowing exactly what words to include and what to leave out, and his melodies strip down to support the libretto without becoming forgettable backdrops. While often accused of dwelling too often in the darkness, his songs travel a wide range of emotional terrain, from anger to joy to confusion to, yes, depression, exploring them all with an intellectual's wit and a poet's sensitivity. Cohen had a special affinity for navigating that mysterious space between the sacred and the secular – unsurprising for this grandson of a rabbi and follower of Buddhism. His ability to blur the lines between the sensual and the divine highlighted the truth in unbridled passion and the grace in a sense of wonder – not for nothing did Cohen once claim he "Came So Far For Beauty."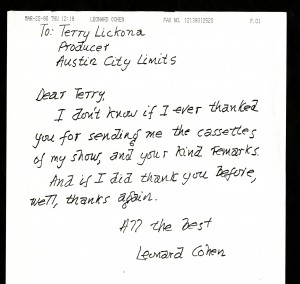 Cohen had a special connection to Austin. On the 1979 tour captured on the live album Field Commander Cohen, he used the Austin jazz fusion group Passenger as the core of his road band, and guitarist Mitch Watkins, keyboardist Bill Ginn, saxophonist Paul Ostermayer and, especially, bassist Roscoe Beck would be off-and-on staples of his backup groups from then on. (Longtime backing singer Julie Christensen also did time in Austin prior to joining Cohen's troop.) Perhaps it was this connection that led to his decision to make his major U.S. television debut on Austin City Limits. Recorded on Halloween night in 1988 and broadcast in 1989, Cohen's hour-long episode was and is one for the ages, a tour-de-force of songcraft and performance that has become one of our most beloved and requested shows.
"Leonard was not much aware of ACL until his Austin friends and cohorts convinced him to do the show," remarks Executive Producer Terry Lickona. "The band played a late show in L.A. the night before and took the red-eye straight to Austin, arriving just in time for rehearsal. They were all wearing the same clothes (Leonard never did change), and his only request was for a bottle of tequila, which the band easily dispensed with. The show was mesmerizing, as was the reaction from viewers who had never heard or seen anything quite like him. Leonard told me some years later that that Austin City Limits performance 'saved his career in America' at a time when he had all but been forgotten."
Cohen returned in 1993 in support of his trailblazing record The Future. The maestro was so pleased with the results he included two of the songs on his 1994 concert record Cohen Live. We're honored to have these two classic appearances to document his unforgettable legacy.  You can watch the first one below.