Austin City Limits caps a standout Season 41 with a sensational hour of music from American roots superstars Tedeschi Trucks Band in their ACL debut.   
Singer-songwriter-guitarist Susan Tedeschi, a three-time ACL veteran who first appeared on the program in 1999, and her guitar hero husband Derek Trucks merged their solo careers to form the Tedeschi Trucks Band in 2010.  The now 12-piece strong powerhouse—one of music's most talented and admired ensembles—lights up the ACL stage in their debut, arriving at the top of their game and presenting gems from their newly-released third studio album, Let Me Get By.  Opening with the uplifting new track "Don't Know What It Means," the virtuoso outfit, complete with horns and back-up singers, perform a thrilling seven-song set combining their distinctive hybrid of Memphis soul, R&B, blues, rock and classic song craft.  Tedeschi puts down her guitar to let her powerful vocals shine on several standout covers including a Joe Cocker-inspired version of the Box Tops' hit, "The Letter," and the Leonard Cohen classic "Bird On A Wire."  As they close out the stellar set with a highlight, "Midnight in Harlem" (from their Grammy-winning 2011 debut Revelator), featuring Trucks' mesmerizing slide-guitar solo, TTB turn the soulful ballad into a gorgeous wall of sound for a perfect close to a thrilling performance and an outstanding season.  The transcendent set has the Austin crowd walking on air inspired by the undeniable power of great music.
"Susan Tedeschi and Derek Trucks are a match made in blues-rock heaven, and are proof-positive of the old maxim that the whole is greater than the sum of these musical partners," says ACL executive producer Terry Lickona.  "Together they show how their new songs are a big leap forward for these road veterans."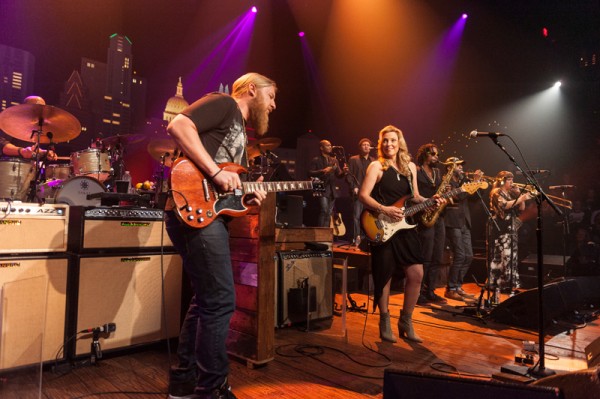 Tune in this weekend for this episode, and, as always, check your local PBS listings for the broadcast time in your area. Go to the episode page for more info, and don't forget to click over to our Facebook, Twitter and newsletter pages for more ACL info. Tune in next week for an encore of our 2015 Hall of fame special.