The day after we recorded Radiohead  back in March 2012, our reaction was, "Radiohead taped Austin City Limits last night. It almost feels like that's all we need to say." Even now we still feel the same sense of met anticipation. It was a happening that fans and we had personally been waiting for and it finally came to fruition. A band like Radiohead, (well, let's be honest – there really isn't a band out there like Radiohead) that can constantly challenge themselves and evolve to change their sound to continue to make beautiful and inspiring music is a rare gift. We are incredibly grateful to encore an episode featuring such progressive rock icons and modern day musical legends.
Radiohead open their set with "Bloom," the busy and fitting song for the occasion that opens their 2011 self-released album The King of Limbs. From there the group goes to the piano-heavy and melodic "Daily Mail," another new song from that year. The rest of the set features a collective mix of tracks from TKOL, Hail to the Thief, Kid A, OK Computer, and new singles. One highlight of the night is when they played a forgotten B-side, "The Amazing Sounds of Orgy." Of course the essence of the night was captured at the very end when the band played the big hits and crowd favorites, "Idioteque" and "Paranoid Android."
For those that missed seeing the taping live or the original broadcast, this is your opportunity to see what many described as being a passionate and "life-changing" performance. You can truly feel the energy of the band and the audience in this episode, and Thom Yorke's dancing may even inspire you to flail around in your living room. (Seriously, if you don't dance during "Idioteque" then there may be something wrong with your well-being.)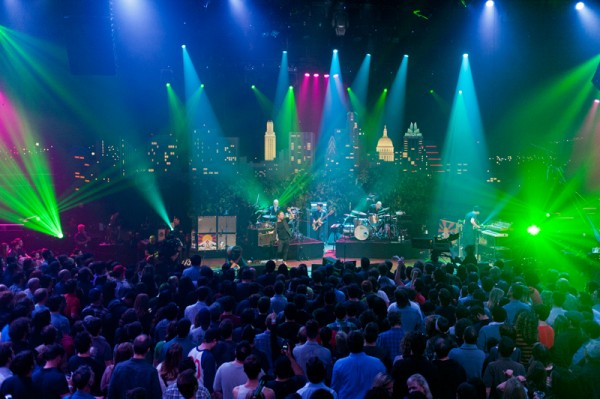 Don't miss this weekend's episode with Radiohead! And don't forget to "Like" us on Facebook, follow us on Twitter and sign up for our newsletter for updates about ACL. Next week: the second half of Season 40 begins with the Avett Brothers and Nickel Creek.