Austin City Limits presents a rare hour of television with legendary industrial rock titan Nine Inch Nails in a special encore broadcast  that originally previewed in April as a prelude to our 40th anniversary season. Recently nominated for induction into the Rock and Roll Hall of Fame, NIN give an arena-worthy performance in their ACL debut.
"We've waited a long time to do anything like this," says Nine Inch Nails' Trent Reznor from the ACL stage. The episode offers a fascinating look at the influential act's artistry in a flawless performance of unparalleled intensity. NIN's Reznor and the seven-piece band—Alessandro Cortini, Josh Eustis, Robin Finck, Lisa Fischer, Sharlotte Gibson, Pino Palladino and Ilan Rubin—deliver an electrifying hour-long set that is a masterpiece of tension and release. Opening with the sultry "All Time Low" from the critically-acclaimed Hesitation Marks—their first album in five years—the band performs tracks from its recent offering alongside earlier works, including 1999's The Fragile. NIN segue into a revamped version of "Sanctified" from the 1989 debut Pretty Hate Machine, with the vocal duo of Fischer and Gibson adding depth and texture to the pummeling rhythms throughout the song as well as the entire riveting set. The cathartic performance comes to a close with a redemptive take on the NIN classic "Hurt", as Reznor grips the microphone and howls the confessional lyrics while the Austin audience begs for more.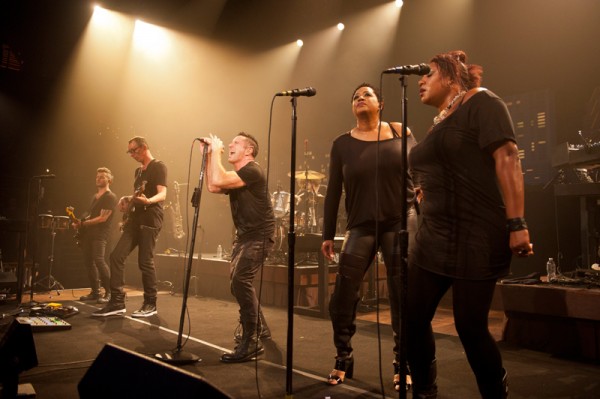 "We never thought we'd see the day when Nine Inch Nails would set foot on the ACL stage," says Executive Producer Terry Lickona. "I mean, they never did television for 25 years. I came away from this show having the greatest respect for Trent Reznor. He's one of the most focused, intense and creative artists I've ever worked with."
Tune in this weekend for this episode, and, as always, check your local PBS listings for the broadcast time in your area. Go to the episode page for more info, and don't forget to click over to our Facebook, Twitter and newsletter pages for more ACL goodies. Next week: Tweedy.