Mumford & Sons are This weekend's encore presentation of Austin City Limits features a high-octane night of contemporary music's best folk rock practitioners, including sets by British superstars Mumford & Sons and Celtic folk-punkers Flogging Molly.
The episode, which originally aired in October 2011, finds Mumford & Sons making their ACL debut and is a must-see for fans and a primer for those new to the band's cathartic live shows. Blending acoustic instrumentation, vocal harmonies and a tireless work ethic, Mumford & Sons have earned an international reputation as one of the best live bands, winning over audiences with their masterful, melancholy voices and musical skills. Mumford & Sons' inspired set features tracks from their career-making debut Sigh No More, and the blockbuster follow-up Babel. The energy on the night of the taping vibrated the walls at The Moody Theater, and it translates directly to the screen. The band perform fan favorites "The Cave" and "Roll Away Your Stone" and poignant ballads "Timshel" and "Awake My Soul." A highlight is an early televised performance of "Lover of the Light," previously unrecorded, and now featured on Babel.
"The first time this show aired, Mumford & Sons did not have the biggest-selling record in the world," says ACL Executive Producer Terry Lickona. "But today they still capture the hearts and souls of young music fans better than anybody else around – and this amazing performance shows why. They do it the old-fashioned way, with authentic songs that speak to real life, and they play their asses off!"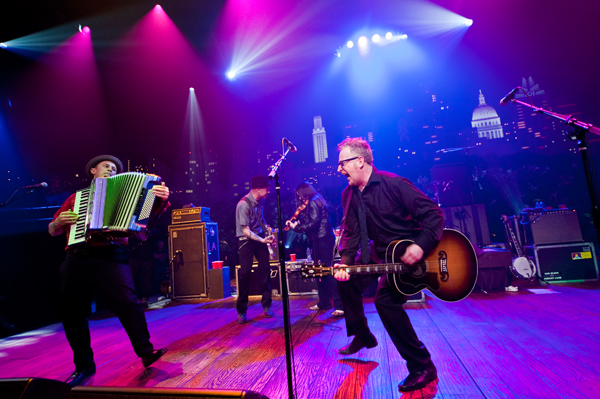 Speaking of energy, Flogging Molly doesn't disappoint in their ACL debut. The band storms the stage with tuneful melodies and puts on a magnificent show with their unique brand of Celtic folk/punk.  Tune in for lively renditions of "Requiem For A Dying Song," "Tobacco Island," and "Devil's Dance Floor."  Bandleader Dave King called their ACL taping "the most important live performance they've ever done."
"A live Flogging Molly show is an experience as much as it is a show," hints ACL's Terry Lickona.  "When you're watching, crank up the volume and buckle up for the ride!"
Check the episode page for more info, photos and clips. Click over to our Facebook and Twitter pages or sign up for our newsletter for up-to-date news on all things Austin City Limits. Next week: Miranda Lambert and Jeff Bridges.