Music legends Emmylou Harris and Rodney Crowell return to Austin City Limits and share the stage for the first time. The pair celebrate their shared history, their recent collaborative album Old Yellow Moon and the continuing power of the song in a new episode that premieres November 2nd. Check with your local station for showtimes.
Friends for forty years, Harris and Crowell have an entwined four-decade history of music-making. ACL veterans, both artists have each appeared on the program seven times, although this episode marks the first time the pair have performed together on the ACL stage. The Americana icons perform favorites and songs from their acclaimed duets album Old Yellow Moon. The collaboration was chosen as album of the year at this year's Americana Music Awards and the pair was honored as duo of the year. American Songwriter says of the album, "On Old Yellow Moon, Harris and Crowell embrace the entire range of life and music they've experienced, from the reckless passions of youth to the reflectiveness of age, from loose-limbed hillbilly boogies to graceful balladry."
"It's great to be back at the world's greatest and longest-running music show," says Harris as she takes the ACL stage with Crowell. The breathtaking performance includes the two longtime kindred spirits joining their voices on Crowell originals as well as revivals of songs by Roger Miller, Matraca Berg and Kris Kristofferson. Harris opens with some of her earlier Gram Parsons-era hits, and the duo fast-forwards to a more recent era for Harris' "Red Dirt Girl" and Crowell's "Rock of My Soul," their voices wrapping the songs in the kind of harmonies only old friends can generate. Special guest Shawn Colvin joins in the finale for a spirited take on Crowell's "Stars On the Water." The episode celebrates a longtime friendship and collaboration, and the pleasure the two music legends take from singing some of their favorite songs is palpable.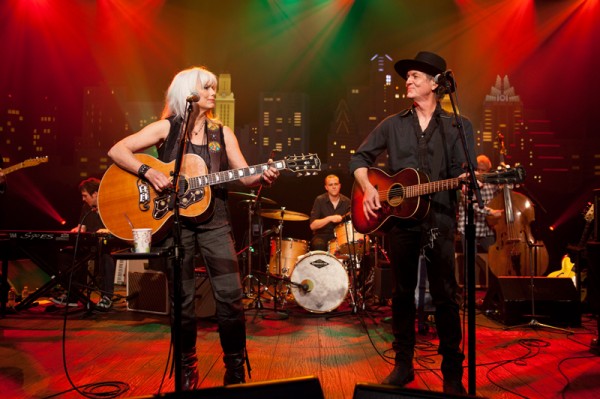 "Emmylou and Rodney are an important part of the history of ACL – going all the way back practically to the beginning," says executive producer Terry Lickona. "But it goes deeper than that – they reflect the heart and soul of what ACL is all about. And the two of them together is a perfect example of the whole being greater than the sum of its parts!"
Check out the episode page for more details on this great show. Be sure to hit up our Facebook and Twitter pages and our newsletter for more ACL-related information. Next week: Emeli Sande and Michael Kiwanuka.