The first time Arcade Fire appeared on the ACL stage, their much-anticipated second album Neon Bible had hit number 2 on the Billboard chart and the band was poised to become superstars. Four years later The Suburbs, the Montreal band's highly acclaimed third LP, had debuted at number 1 on the album charts and won a Grammy for Album of the Year, and the group had solidified their position as a major festival headliner. What better way to celebrate Arcade Fire's ascendancy than a triumphant return to Austin City Limits? Find out this Saturday, as we encore one of 2012 most celebrated episodes.
With The Suburbs at the heart of their performance, Arcade Fire take the stage with the singalong pop single "Ready to Start." Within moments the crowd is in the palm of bandleader Win Butler's hand, rolling through new classics like "Month of May," "Rococo" and the Regine Chassagne showcase "Sprawl II," pushing the studio to a fever pitch. Never fear, Arcade Fire standards "Haiti," "Keep the Car Running" and, of course, "Wake Up" also make appearances. With nearly every tune an audience-energizing anthem, the passion never flags – this is truly one of the most exciting shows we've ever recorded.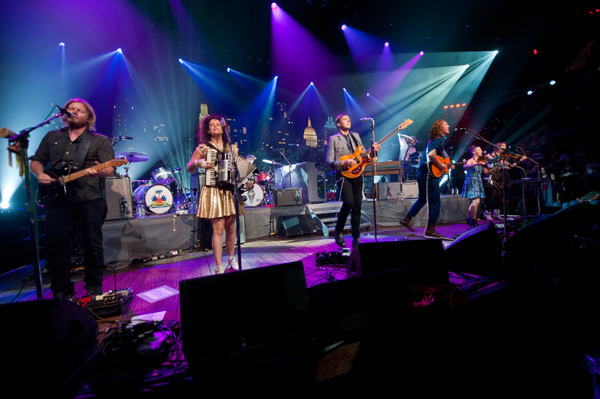 You can, of course, find out for yourself on Saturday – check your local listings for the time your PBS station will broadcast this awesome episode. You can also go here for biographical info, pictures and the setlist. Don't forget to visit our Facebook and Twitter pages and to sign up for our newsletter for more ACL TV sweet stuff. Next week: Radiohead.