Texas has more than its fair share of music of every stripe, but one of its most (in)famous strains is the Lone Star singer/songwriter. This week we have two of the best: Robert Earl Keen and Hayes Carll.
The Houston-born Keen is an old ACL pal – this episode is his fifth appearance on our stage. Supporting his album Rose Hotel, Keen runs through a set of his humorous and poignant slices of life, from the statement of purpose "Throwin' Rocks" to the spoken-word fantasia "The Great Hank" to the Levon Helm tribute "Man Behind the Drums." Backed by his longtime band, plus guests Lloyd Maines, Danny Barnes and Bukka Allen, Keen reminds us why he's considered the premier Texas songwriter of our age.
A relatively young buck on the Americana scene, Hayes Carll has garnered multiple awards with his steady country/folk melodies and sardonic sense of humor. Here he draws from both his album Trouble in Mind and his stash of then-unreleased tunes for the unabashed "Wild As Turkey," the cheeky "Another Like You" (a duet with bassist Bonnie Whitmore that would appear on his next record KMAG YOYO) and the artist's anthem "Drunken Poet's Dream," on which he's joined by his co-author, Texas singer/songwriter legend Ray Wylie Hubbard.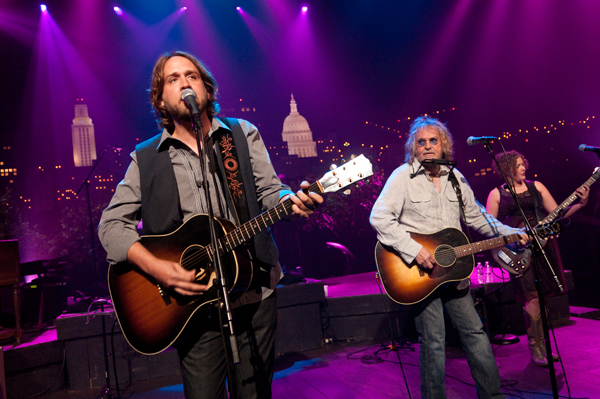 Check out the episode page for more info, and join us on your local PBS station for the best in Texas songsmithery. Keep up with ACL goings-on with our Facebook and Twitter pages and our newsletter. Next week: The National and Band of Horses.