Not every innovator is a household name – there are plenty of artists who shape entire genres without becoming giants in the public eye. Such is the lot of Bob Mould. The New York-born/San Francisco-based singer/songwriter/guitarist rewrote the rules of punk and set the template for alternative rock with his '80s band Husker Dü and 90s outfit Sugar. His powerful songwriting and distinctive guitar style have had an influence far beyond that suggested by name recognition. Without Mould, there would have been no Pixies, no Green Day, no Foo Fighters – all artists who acknowledge his influence.
We were thrilled to welcome Mould, the day before his set at Austin's Fun Fun Fun Fest, to ACL Live at The Moody Theater for his debut taping. The alt.rock icon brought the thunder with a set high in both energy and volume that spanned across the decades of his 30-year career.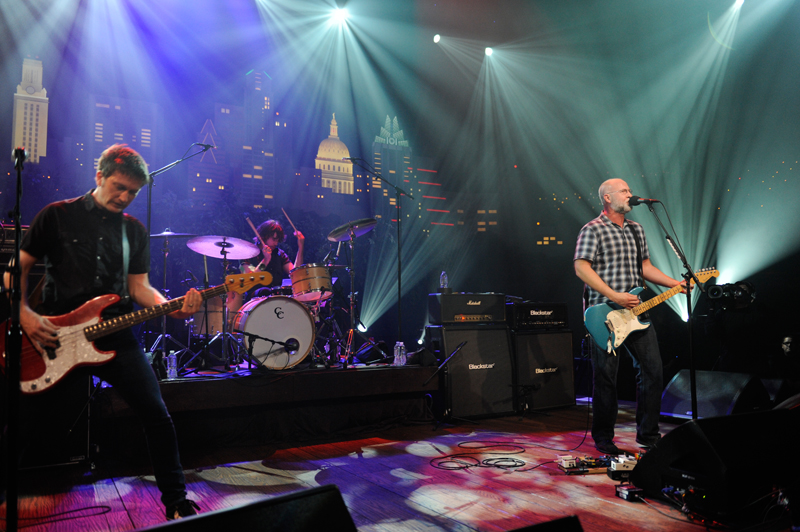 He started the set with the chugging power chords of "The Act We Act," the first tune on Sugar's classic debut record Copper Blue. Unsurprisingly, given that Mould and his sidefolks are currently touring that LP in its entirety, he then slammed immediately into a fierce "A Good Idea," followed in short order by "Changes," "Helpless" and "Hoover Dam" – in other words, side one of Copper Blue. Mould windmilled his Stratocaster between muscular vocals and nimble solos aided by bassist Jason Narducy (formerly of Mould production client Verbow) and drummer Jon Wurster (also of Superchunk).
After a brief pause to allow band and audience to catch their breath, Mould then drew from his brilliant new record Silver Age with the snarling "Star Machine," the driving "Round the City Square" and the masterful "The Descent," updating his Sugary approach while remaining true to its spirit. Mould then made a startling side trip, dipping into his acclaimed 1989 solo debut Workbook. Running the primarily acoustic songs through his power trio filter, Mould maintained the intensity by turning "Wishing Well" into a powerhouse anthem, "Sinners and Their Repentances" into a pounding rocker and "See a Little Light" into a crunchy example of the sound he does so well.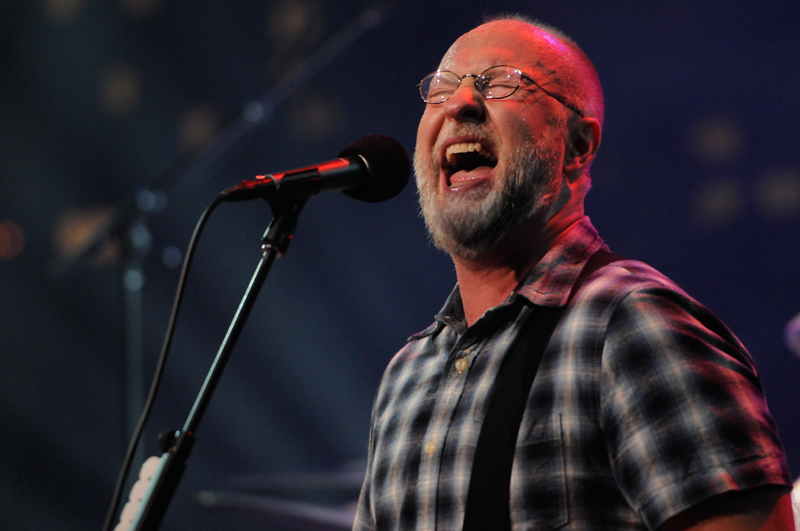 To round it out, Mould cranked out a quartet of Husker Dü classics. "I Apologize," "Chartered Trips" and "Could You Be the One?" blasted pop/punk fury, their hooks enhanced by the psych/noise ending of "Trips." But it was the rarely-performed "Hardly Getting Over It," dedicated to Mould's late father, that had the most emotional weight. The only slow song of the evening, it had the feel of real catharsis.
The trio closed the set by roaring straight into "Keep Believing," a tribute to the music that moves Mould to continue creating. But their time offstage was brief. "I've waited a long time to do this," said the songwriter as the band returned to the stage, "so thanks a lot." After that simple statement, the band launched into Sugar's "If I Can't Change Your Mind," again translating a formerly acoustic tune into electric fury. The encore concluded with a pair of Husker Dü numbers – the dynamic, magnificent "Celebrated Summer" and "Makes No Sense at All."
This episode will be one to remember. We can't wait for you to see it when it airs early next year.