FUNDING FOR AUSTIN CITY LIMITS IS PROVIDED IN PART BY
Thank you for being a supporter of Austin City Limits.
This is your private viewing room for our Austin City Limits livestream performance.
ADDITIONAL SUPPORT PROVIDED BY
LOCAL UNDERWRITING
ConocoPhillips, Norton Rose Fulbright,
PNC Bank, Sixth Street, Thundercloud Subs
& FRIENDS OF AUSTIN CITY LIMITS
A full list of the current Friends of Austin City Limits members can be found at austinpbs.org/friends-of-acl/current-friends
ABOUT THE ARTIST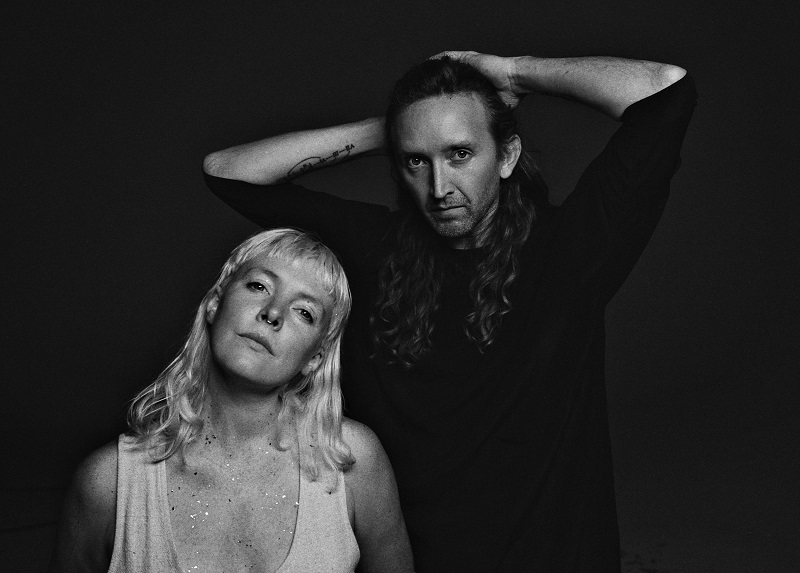 Sitting in a Wisconsin deli in 2012, Amelia Meath told her new friend Nick Sanborn she wanted to start a pop band. She proposed a simple division of labor: She'd write and sing their emotionally multivalent songs, wrapped around seemingly effortless hooks. And he'd make the beats that drove them, slightly slippery instrumentals that winked at his abstract electronic inclinations. For a time, that was the premise of Sylvan Esso. But during the last decade, those responsibilities have morphed.
Meath and Sanborn's roles have become so intertwined that every moment of any new Sylvan Esso song feels rigorously conceptual but completely rapturous, their compelling central paradox. "Making music now looks like both of us sitting in a room together and having small arguments," Meath quips.
That dynamic thumps at the heart of Free Love, Sylvan Esso's instantly endearing third album and a charming but provocative testament to the duo's long-term tension. "We're trying to make pop songs that aren't on the radio, because they're too weird," says Meath.
You could frame Free Love in a dozen different ways. You could, for instance, declare it their undeniable pop triumph, thanks to the summertime incandescence of "Ferris Wheel" or the handclap kinetics of "Train." You might, on the other hand, call it their most delicate work yet, owing to Meath's triptych of gently subversive anthems—"What If," "Free," and "Make It Easy"—that begin, end, and split the record into sides. You could label Free Love their modular synthesis album, since Sanborn's explorations of those infinite systems shape so many of these daring songs.
You might even call it their marriage record, as it's the first LP Meath and Sanborn have made since trading vows. Instead, the thread that binds together every scintillating moment of Free Love may seem surprising for a duo that has already netted a 2022 Grammy nomination for Best Dance/Electronic Album for the record, made some of their generation's sharpest pop daggers, and generally approached their work with an anything-goes esprit: Finding confidence. An album that implores us to consider that our assumptions about our world might be wrong, Free Love asks major questions about self-image, self-righteousness, friendship, romance, and environmental calamity with enough warmth, playfulness, and magnetism to make you consider an alternate reality.
These are Sylvan Esso's most nuanced and undeniable songs—bold enough to say how they feel, big enough to make you join in that feeling. The Durham, NC-based duo is currently on a U.S. headline tour with high-profile upcoming summer dates at Wilco's Solid Sound and Rothbury's Electric Forest Festival.
TONIGHT'S POSTER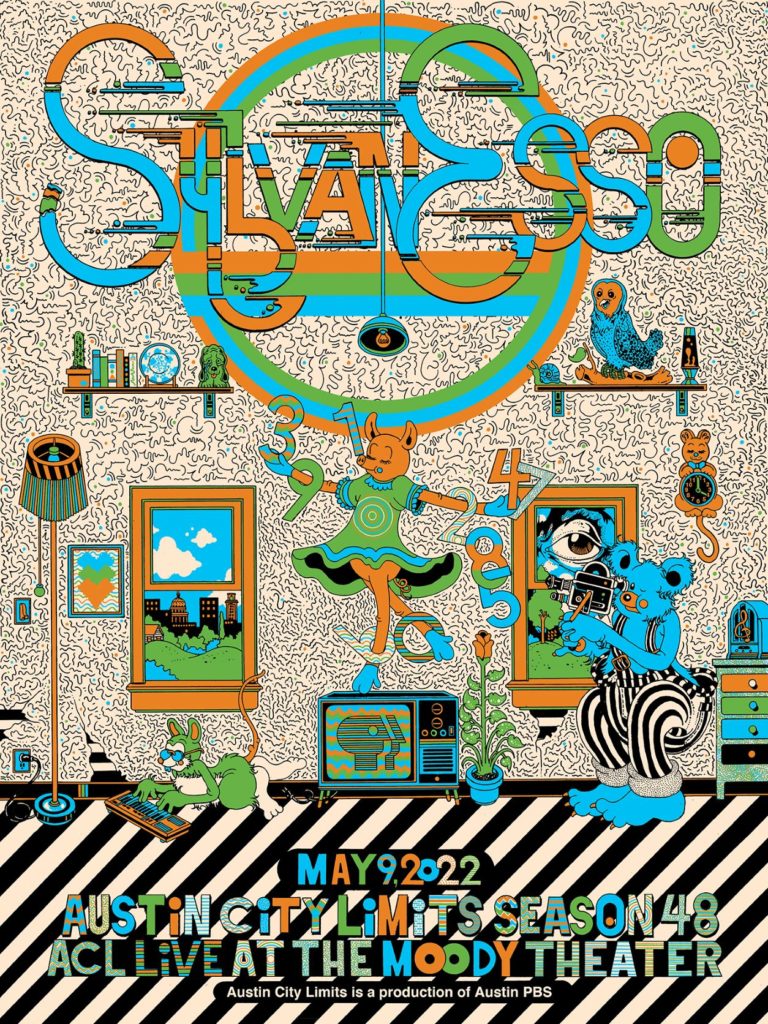 The poster for tonight's taping is by Brian Blomerth—a cartoonist/illustrator from Newport News, VA. He has released two graphic novels, "Bicycle Day" (2019) and "Mycelium Wassonii" (2021) via Anthology Editions. More of his work can be seen via brianblomerth.com or on Instagram @pupsintrouble