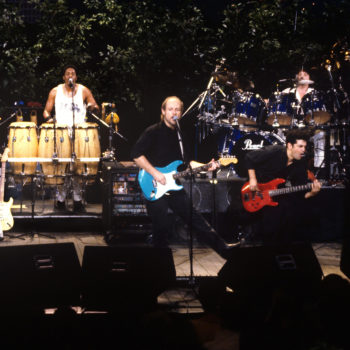 We here at Austin City Limits are saddened by the passing of Little Feat singer, songwriter and guitarist Paul Barrere on Oct. 26. He was 71. No cause of death has been announced, but Barrere was undergoing treatment for liver cancer. 
The Burbank native joined Little Feat in 1972, just in time to record the band's classic LP Dixie Chicken. Besides serving as an alternate singer and skilled guitar foil to bandleader Lowell George, Barrere wrote or co-wrote several Feat classics in its repertoire, including "Time Loves a Hero," "Feats Don't Fail Me Now," "Old Folks Boogie," "Down on the Farm," "Skin It Back" and "All That You Dream." When the band reconvened in 1988 following George's death, Barrere assumed the frontman position, leading the Feat through a further nine albums, including the gold-selling Let It Roll and its most recent LP Rooster Rag. Barrere also played live and in the studio with Taj Mahal, Jack Bruce, Carly Simon, Chico Hamilton and Nicolette Larson, among others. In between the two eras of Little Feat, he recorded two solo albums and led the band the Bluesbusters. He will be missed by bandmates and fans alike. 
Little Feat performed on Austin City Limits in 1991. Here they are with the Barrere-led "Old Folks Boogie."

Austin City Limits 1611: Little Feat – "Old Folks Boogie" from Austin City Limits on Vimeo.